TAKING A DEEP DIVE INTO THE OKLAHOMA MARKET AND ITS LEGALIZATION EFFORTS TO-DATE
It may be shocking to many that a politically conservative state such as Oklahoma would house one of the most liberal medical markets in the nation, and yet, here we are. It is not California or any major blue state, but the market leading the charge is the big red Sooner State – Oklahoma.
THE JOURNEY TOWARDS A ROBUST MEDICAL-ISH MARKET
On June 26, 2018, Oklahoma voters approved State Question 788 via a ballot referendum, passing what was known as one of the loosest medical programs in the nation.
Less than two months after the pass of S.Q. 788, the Oklahoma Medical Marijuana Authority (OMMA) received 366 patient applications and 205 commercial applications in the first hour of opening the application portal. By the end of the first day, 23 individuals were given the approval for medical cannabis licenses.
Fast forward to eighteen months after voters' approval of medical use and more than 2,200 licensed dispensaries sit across the state, with 1 in 13 adult Oklahomans possessing a medical card (Approvals were easy to get with no qualifying medical conditions required). While recreational use is not quite legal yet, the medical laws by the State of Oklahoma are the most liberating for users and businesses.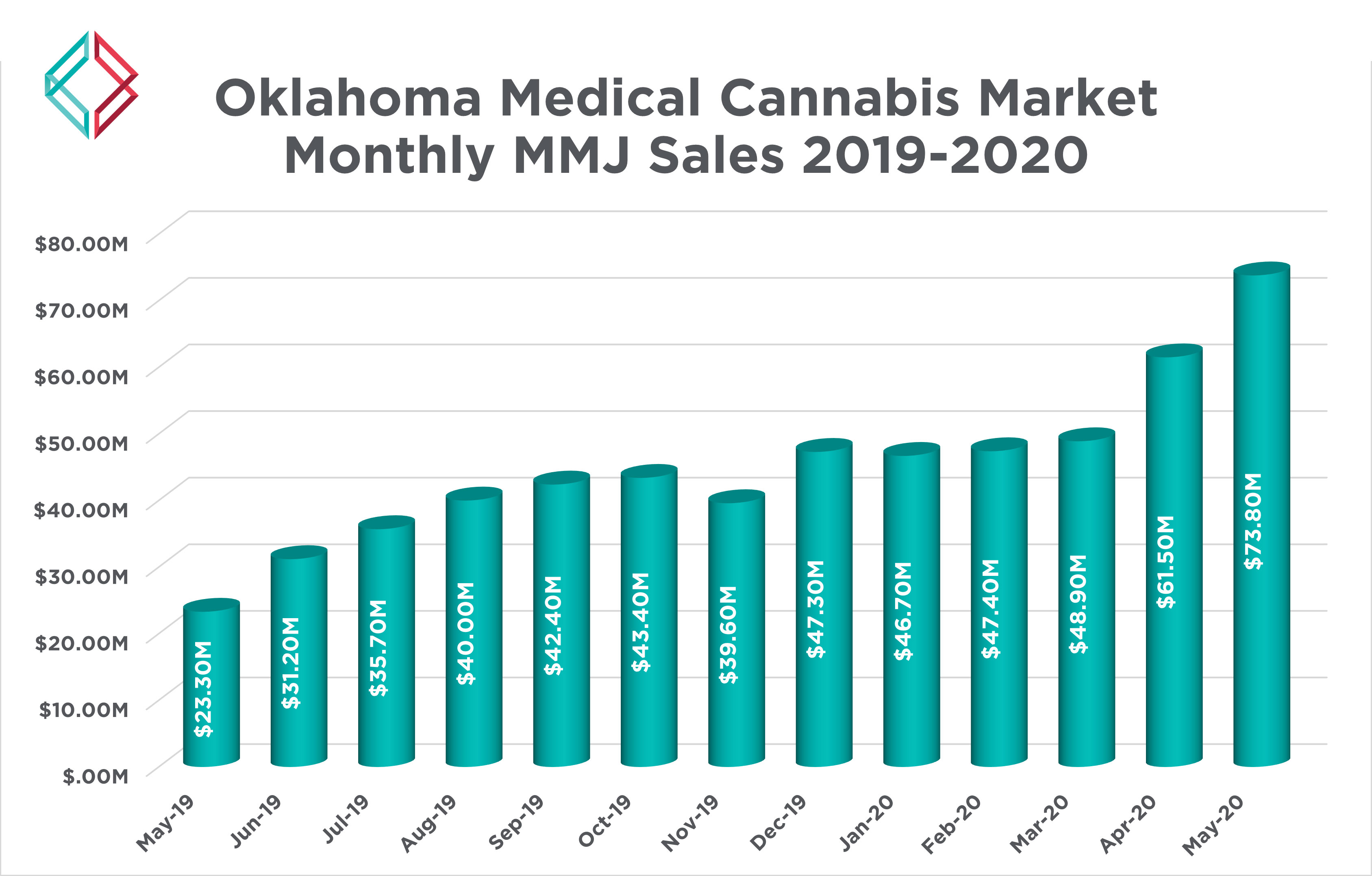 THE "GREEN RUSH" SHOWS NO SIGN OF SLOWING DOWN
According to a licensing report release by OMMA, active patients grew by more than 46,000 in the past year, a staggering 14% increase to a total of nearly 376,000 patients today. This means about 9.4% of Oklahoma's population is actively registered in the state's medical cannabis program.
In terms of businesses, Oklahoma has gained 469 licensed businesses in the past year, bringing up to a total of 12,598 which includes 8,625 growers, 2,325 dispensaries and 1,523 processors, in addition to transporters, labs, and other licensees.
Despite the Covid-19 pandemic, the Oklahoma cannabis market is thriving, with the state collecting over $127 million in taxes in 2020, according to the OMMA. Even with some illegal operations still plaguing the industry, the state has collected $90.7 million in taxes in the first seven months of 2021. With such momentum, Oklahoma will surpass the 22% increase ($155 million) of taxes collected this year.
The State of Oklahoma leads the nation's medical market with 56 dispensaries per 100,000 residents. In 2019, the Oklahoma Tax commission has reported that retail sales reached $345 million, while state revenue topped $55 million.
According to Leafly's annual jobs report, in 2020, Oklahoma's medical product sales went past $800 million, more than double than its previous year. This has led to creating 6,000 new employment opportunities in the industry, bringing a total of around 17,000 industry-related jobs to the state. Putting that into perspective, there are more employees in the cannabis industry than construction workers within the state.
LEGISLATION TIGHTENS WHILE THE INDUSTRY CONTINUES TO GROW
As one of the largest programs in the nation, Oklahoma laws and legislation continue to evolve to cater the fast-growing industry.
On March 10, 2021, the House passed House Bill 2272, a measure to "direct the OMMA to cap the number of dispensaries, processor and grower licenses beginning of Sept. 1, 2021.", an effort to combat the growth of an illicit market dominated by organized crime. Upon the expiration of a grace period, the OMMA will terminate any licenses if certain requirements are not met.
The legislation, approved by Gov. Kevin Stitt on May 18th, also requires cannabis businesses to "disclose existence of any foreign financial interests and the identity of such ownership, if applicable" with the Oklahoma Bureau of Narcotics and Dangerous Drugs (OBNDD) by the 30th of August. Failure of said completion will result in licenses being revoked. This is in response to illegal operations hiring "ghost owners" to acquire medical licenses in the state (75% ownership must be by an individual who has lived in Oklahoma for at least two years).
Apart from legislative measures, the OMMA has appointed Florida-based company Metrc to implement a state-wide seed-to-sale monitoring system to track individual plant and package from farm to point-of-sale. This effort ensures products being transferred have been tested and allow faster response should there be a recall.
THE ROAD TOWARDS RECREATIONAL
While Oklahoma does not permit recreational use for now, the law for medical use that was passed in 2018 loosely allows consumption. Even though Oklahoma's medical program is fairly permissive, the risk of criminal prosecution still exists.
The state was initially on track for legalizing recreational use but was pushed back by the pandemic. The bill that would introduce the referendum, HB 1961, is still being discussed and would put the issue on the 2022 ballot, allowing voters to decide on whether the state of Oklahoma should legalize and regulate for adult use.
Ultimately, the change in Oklahoma's law to allow recreational use would transform the state's medical program and criminal justice system. One likely possibility, as seen in other states, is that patients with medical cards would decrease significantly as they convert to recreational users.
About Canna Brand Solutions
Canna Brand Solutions is an innovative custom packaging supplier and an official CCELL Distributor. We are a wholesale cartridge, battery, and packaging supplier, and more. Our passion to build lasting relationships with our partners motivates us to exceed your expectations, helping you grow your brand in this ever-evolving global industry.
With our deep experience in manufacturing and the cannabis industry, we offer adaptive custom packaging solutions, in-house design, and industry expertise to Cultivators, Extractors, Operators & Retailers.