DAWG STAR, gLEAF, THE PASS
Since the "Green Rush" in December 2012, the cannabis industry has undergone significant changes, even more so in retail packaging the past nine years. While some brands have allocated resources to shelf and brand presence since the beginning, others have started to realize that there is value in having a strong brand presence for both in the retail stores and in the hands of consumers.
Fading away are the days of tacky leaf-like symbols, various shades of green or hippie-like motifs. For the industry to be taken seriously, such stereotypes must be shaken off to appeal to the mass audience. With every company producing similar products and of the same platforms, it is the stories and identities of their brands that differentiate between the highs and lows (pun intended).
In this article, we will highlight three brands that took branding to the next level with their stunning packaging designs, from its size, shape, colors, and the materials used in premium retail packaging.
DAWG STAR CANNABIS – THE NORTHWEST ELEGANCE
Dawg Star, a leading brand in WA state with a decade worth of industry experience, is committed to providing users with quality and sustainably produced products through its artisan approach in cultivation. This Northwest powerhouse's brand is depicted by a mirror image of 'Anubis' or pharaoh dog, with slight accents of Egyptian-esque motifs around the hounds in gold, which exudes premium and elegance.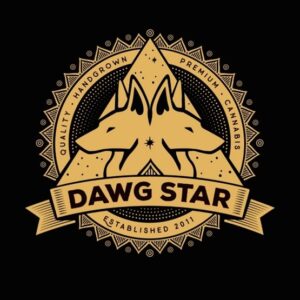 Dawg Star spares little to no expense in ensuring its packaging aligns with its premium branding. It was known that all its plants from Dawg Star are hand-trimmed, hand-watered and the flowers are always stored and sold in glass jars, wrapped in glossy metallic gold foil. Even for their pre-roll packaging, Dawg Star uses custom rigid box packaging – a more cost effective and sustainable approach than the commonly used metal tins in the market, without sacrificing the luxury feel it gives to the end users.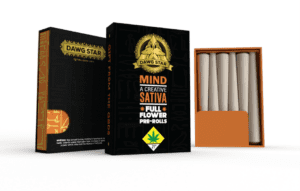 Check out more of Dawg Star's products here or visit their Instagram page.
Canna Brand Solutions offer a selection of rigid box packaging options that fit various products such as oil cartridge, containers and pre-rolls.
gLEAF MEDICAL – MASTER OF EXTRACTION AND MINIMALISM
Formerly known as Green Leaf Medical that guided the advent of medical cannabis in the state of Maryland, gLeaf has then expanded its operations towards Pennsylvania, Virginia and Ohio. Following the acquisition by Columbia Care Inc., it has then become of the largest multi-state operator within the nation. gLeaf's medical professionalism in the industry is reflected on the typography and color usage in its logo – medical/health fonts with a green and white color scheme.
gLeaf Extracts, the extraction arm of gLeaf Medical, uses custom rigid boxes to package its variety of concentrate products: single-use disposables, 510 cartridges, concentrate and salve containers. The color schemes used on its rigid box package are green, black, and white – minimalistic yet effective branding, very much anchored to its medical roots.
While gLeaf employs a more minimalistic design choice for its packaging, the hardware used is state-of-the-art. For its line of vape products, gLeaf uses authentic CCELL hardware – the epitome of quality and safety in the market.
You can also understand more about the CCELL hardware via our website.
Check out a selection of high-quality flowers, extracts and edibles via gLeaf's official website.
THE PASS CO. – THE INTERSECTION OF NATURE AND CULTURE
The Pass is a vertically integrated adult-use operator based in Massachusetts, with licensed operations in cultivation, processing, and retail. Its brand name "The Pass" holds a deeper meaning. Other than being representative to the iconic Berkshires Mountain passes, it represents the experience of "the freedom to consume legally and the communal spirit that connects one another." The Pass' logo design is headed by a silhouette of the Berkshire mountains, colored in shades of tranquil blues – A perfect combination of nature and art.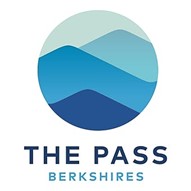 The Pass stays true to its "Farm to label" motto, housing about 40 different strains in various consumption platforms: Flower, pre-rolls, concentrate, vape, topicals and edibles. In terms of marketing its wide line of high-quality products, The Pass ensures that each product's packaging goes in line with its premium branding: From using custom rigid boxes for its CCELL vape cartridges, CCELL disposables, concentrate containers, tinctures, and salve containers; to applying a matte texture to its flower bags, all while maintaining its iconic Berkshire Mountain logo at the center. By using color schemes such as blue, green, purple, and red, it effectively differentiates the range of strains that The Pass has to offer.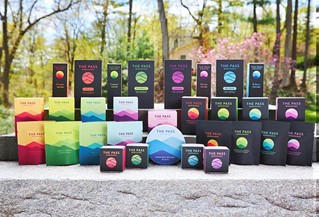 Get to know more about The Pass and its wide range of products by visiting their website.
About Canna Brand Solutions
Canna Brand Solutions is an innovative custom packaging supplier and an official CCELL Distributor. We are a wholesale cartridge, battery, and packaging supplier, and more. Our passion to build lasting relationships with our partners motivates us to exceed your expectations, helping you grow your brand in this ever-evolving global industry.
With our deep experience in manufacturing and the cannabis industry, we offer adaptive custom packaging solutions, in-house design, and industry expertise to Cultivators, Extractors, Operators & Retailers.