Instead of tossing them into the trash or a recycling bin, here are 5 innovative way that will inspire you to find new uses for edible or flower tins once they are used.
Metal tins are producers' and processors' favorite custom packaging option to showcase their most premium product that they can offer to consumers. Widely used for food and beverage packaging due to its almost 100% barrier protection against light, air and bacteria, custom metal tins are the best edible packaging in the market due to their preservation of flavor, quality and freshness – from factory to end users. Other than edibles, child-resistant custom metal tins are also the perfect custom packaging solution for pre-roll joints and CBD infused pouches.
Most custom metal tins in the market are made with food-grade tinplate or aluminum. As responsible citizens that advocate sustainability, recycling these used metal tins is the best way to conserve our natural resources from overproduction. However, there are more ways than just tossing them into the recycling bin while still being responsible children of Earth. Here are five creative ways that we found from the web that inspire the reusing of edible tins or flower tins:
PORTABLE FIRST AID KIT
It is best to always have a first aid kit with you as you never know when a minor emergency will take place, even more so for parents with young, injury prone children. You can add bandages, alcohol wipes, antibiotic creams and even some Advil to make up a well-stocked, portable kit that can be kept away virtually anywhere: a bag, a pocket, the glove compartment of a car – wherever.
Here is a detailed article from the Art of Manliness that teaches you how to DIY a complete first aid kit that is portable.
POCKET GAMES CHEST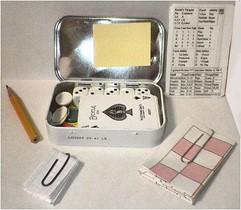 There are times that we find ourselves bored out of our minds while being stuck in places like airport transits, long-haul road trips or a pouring camp site – and your iPhone or iPad games are just not enough to pass time in a group. How about a good ol' fashion analog games that you can involve everyone around you like a mini-version of the "57 Games Chest"?
A Flickr user by the name of Airship came up with this ingenious idea.
TRAVEL COCKTAIL KIT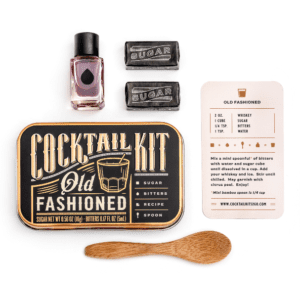 Looking to take the edge off while flying? While there a lot of readymade travel-sized cocktail kit available to purchase online, why not pack your own for more variety and at a fraction of the price? Whether you are itching for a good Old Fashion or a Moscow Mule, you can easily pack the ingredients needed in a metal tin. Order a mini bottle when you are on board, bring out your inner bartender with your very own cocktail kit and mix away!
Here is an in-depth instruction on how to make a travel cocktail kit via an article by hiconsumption.
TRAVEL TOILETRIES CONTAINER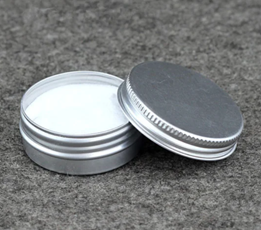 The travel-sized toiletries market usually revolves around the same brands that most of us do not use every day. In terms of quality, it is fair to say that they are not quite on par on some of the "good ones" that we come to love and stay loyal to. And most of the time, those travel-sized shampoos or toothpastes run out a day or two before the end of our vacation.
Most metal tins used for packaging edibles, flower joints and pouches are child-resistant, meaning that they ensure an airtight seal with no leakage when closed – Perfect for storing shampoo, body wash, moisturizers, lotions and even toothpastes. With a bigger volume container, you will never have to go for a refill run at the nearest foreign convenience store ever again!
Extra tip: You can also reuse concentrate jars for a smaller volume with those fancy balms, creams and lotions.
MICROGREENS CONTAINER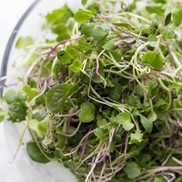 A fantastic way to replace the green in the metal tins with green – microgreens. Microgreens are "mini" greens that can be grown from easy-to-germinate seedlings and harvested when they are a few inches tall. They are very convenient to grow without a lot of equipment. And yes, the 2-inch-deep round edible tin or flower tin makes it the perfect container to grow microgreens.
Rusticwise has a great article on repurposing containers for microgreens. Reuse a couple of your empty round edible tins to grow, and you will have your own microgreen garden!
NOTABLE MENTION: MICRO SURVIVAL KIT
This is by far the most searched in reusing edible tins from the web, with various variations available to choose from. They are extremely popular due to the compact size and shape of the tins (like an Altoids tin), which can be packed along in case of an emergency. With this micro survival kit, you are prepared for almost anything in the wild.
Check out the how-to by Field and Stream in its article here.
About Canna Brand Solutions
Canna Brand Solutions is an innovative custom packaging supplier and an official CCELL Distributor. We are a wholesale cartridge, battery, and packaging supplier, and more. Our passion to build lasting relationships with our partners motivates us to exceed your expectations, helping you grow your brand in this ever-evolving global industry.
With our deep experience in manufacturing and the cannabis industry, we offer adaptive custom packaging solutions, in-house design, and industry expertise to Cultivators, Extractors, Operators & Retailers.