CCELL TECHNOLOGY
The unique manufacturing process of sintering the ceramic material at high temperatures increases the stability of the CCELL atomizer core through its large coverage of nanoscale inlet holes. These factors enable the CCELL cartridge to better absorb and efficiently heat highly viscous oils that can be as thick as resin – vaporizing them to the last drop.
Ever since the state of Washington and Colorado first legalized its recreational use in 2012, the various methods of consumption have expanded greatly beyond the classic flower and buds. While this humble writer enjoys the occasional bong rip or smoke circle, there are times that you would prefer to enjoy the righteous plant in a more discrete manner and still achieve the same elevated state of mind.
"First, fill the 510 cartridge with your choice of concentrate or distillate. Once sealed with a designated mouthpiece and attached to a 510 battery, inhale through the mouthpiece to activate a flow of electricity from the 510 battery through the oil cartridge's atomizer. Conversion of electric to heat energy will ensue to heat the distillate efficiently and safely through the atomizer, producing a vapor of rich goodness that you can enjoy." – This is the art of vaporizing.
Fast forward to the year 2021, and the demand for pre-filled oil cartridges is at over $160 million per month in categorical sales nationwide. While users are at near option paralysis with a wide range of oil brands and types by renown processors/extractors, processors and extractors still struggle to find the crème de la crème of cartridge brands. Among the names that parallel quality and satisfaction, CCELL takes its rightful place as the paramount of excellence.
POWERED BY CCELL – THE "C" MEANS "CERTIFIABLY THE BEST CERAMIC ATOMIZER IN THE MARKET."
Not all ceramics are created equal.
Plagued by the constant struggles of failed, leaking cartridges and oils left unfinished, most processors and extractors turned their heads towards oil cartridges that utilize stable and consistent ceramic atomizers. However, what they could find en masse in the market are sub-par oil cartridges which were reconfigured hardware initially meant for e-liquids. To ensure that our partners get their money's worth and that end users are able to enjoy their products to the fullest extent, our journey to search for the best 510 cartridge has led to a universal answer: CCELL cartridges.
Unlike the conventional cotton wick heating element, CCELL carts are embedded with a proprietary porous ceramic core boasting a 360 heating coil that allows continuous oil flow and uniform heating. This way, these highly crafted distillates are evenly heated without being burnt, all while producing a consistent, voluminous, and flavor-packed vapor.
SAFETY AND QUALITY ARE THE MAIN PRIORTY
All CCELL products, including the CCELL cartridges, are made in a medical-grade, dust-free and GMP-certified production facility. Each testing procedure precisely monitors the quality of manufacturing from raw materials to the finished products. The designers of these 510 cartridges have more than 300 patents on vaporizing technology, making CCELL undeniably the top of the field.

CCELL M6T AND CCELL TH2
Since 2017, Canna Brand Solutions has been an official wholesale CCELL supplier and a proud champion of the CCELL brand in the industry.
Featuring CCELL revolutionary ceramic core heating technology, these CCELL cartridges with 510 threads are optimized to absorb and evenly heat high quality oil more effectively.
Our CCELL carts selection includes:
CCELL M6T05 & CCELL M6T10 with polycarbonate tanks and press-fit mouthpieces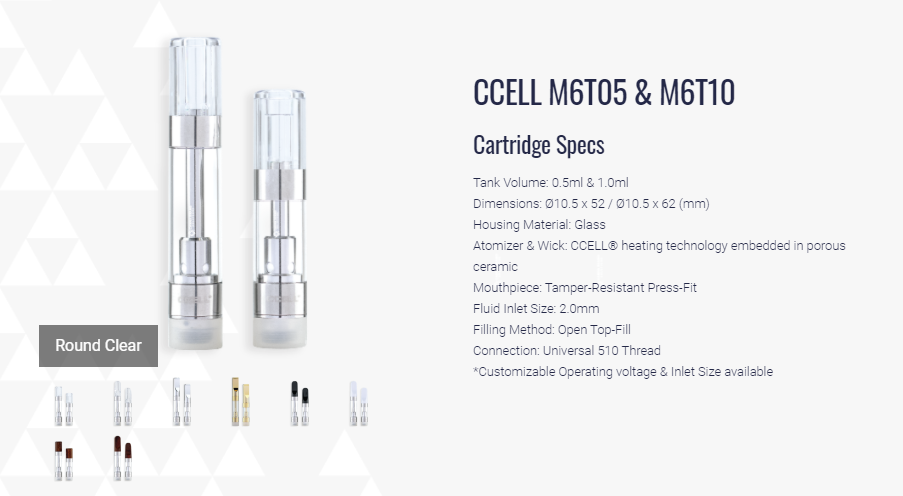 CCELL TH205 & CCELL TH210 with premium glass tanks and screw-on mouthpieces.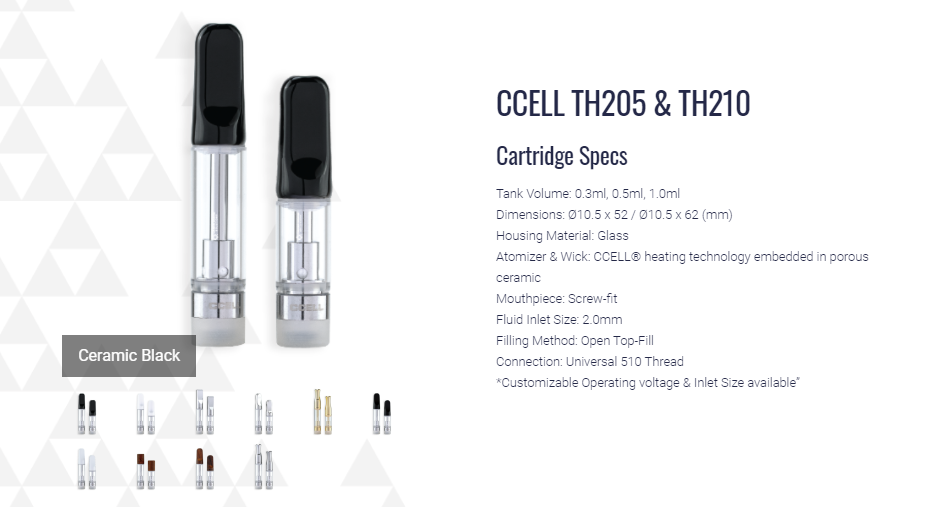 Our custom CCELL Cartridges capabilities include: custom band or mouthpiece colors, etching, printing, plating and packaging.

All CCELL 510 cartridges are recommended to use with CCELL batteries for optimum performance.
You can check out more details about the CCELL 510 carts here.
NEED THE PERFECT CUSTOM PACKAGING FOR CCELL 510 CARTRIDGES?
We provide a wide array of cart packaging solutions that elevate your brand and meet your compliance needs. Our team's approach in integrating production with innovation and creativity is what sets us apart.
Check out our selection here.
About Canna Brand Solutions
Canna Brand Solutions is an innovative custom packaging supplier and an official CCELL Distributor. We are a wholesale cartridge, battery, and packaging supplier, and more. Our passion to build lasting relationships with our partners motivates us to exceed your expectations, helping you grow your brand in this ever-evolving global industry.
With our deep experience in manufacturing and the cannabis industry, we offer adaptive custom packaging solutions, in-house design, and industry expertise to Cultivators, Extractors, Operators & Retailers.
Our partner's success is our commitment. When you partner with us, you partner with family.