Pre-rolls remain one of retail and dispensary's favorite categories as many consumers still choose a more "classic" consumption experience. While some producers or growers may lean towards cost-effective solutions, it is a fact that branding and differentiation are more important towards being successful in the pre-roll market.
Generic packaging for pre-rolls such as mylar bags and low-quality plastic tubes are no longer viable in today's market. For the past decade, plastic pre-roll packaging like pop-top tubes and metal packaging for multipacks such as metal tins have been the popular packaging options by producers to effectively market pre-rolls or joints.
As demand for sustainable materials grows and more states regulations are requiring child resistant packaging to be compulsory, the designers at Canna Brand Solutions introduces an upgrade box packaging solution of pre-roll multipacks: the CR rigid joint box.
WHAT IS RIGID BOX PACKAGING?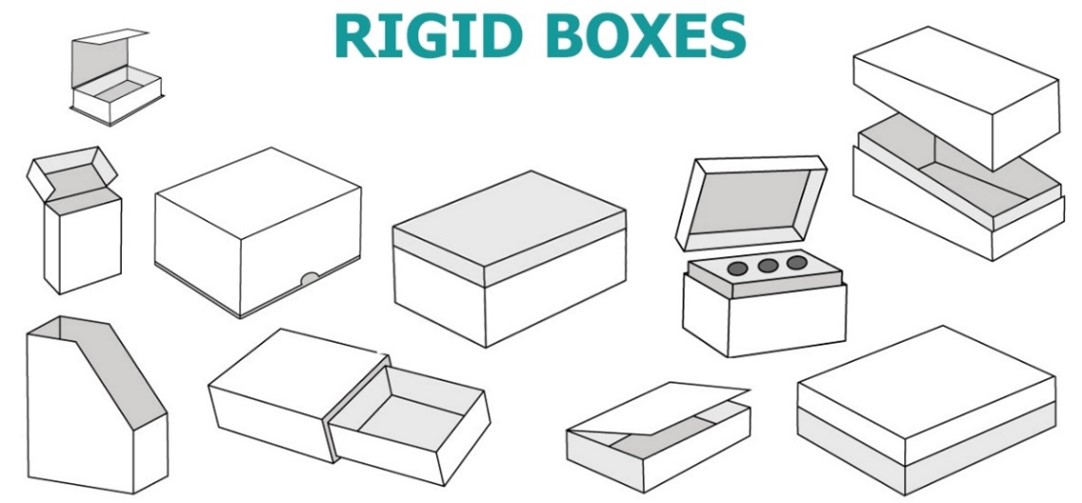 Consumers might have a sense that the rigid box it is a type of paper box, but most are unsure due to its durable and premium appearance. Also known as set-up boxes or gift-boxes, rigid boxes are commonly used in merchandising high-end luxury products such as smart phones, tech gadgets, cosmetics, and jewelry
Rigid boxes are made of condensed chipboard wrapped in specialty paper, that is 4 times thicker than the conventional paperboard used in a folding carton. Compared to paperboard and corrugated boxes which are produced through automated machinery, rigid boxes are often hand-made. Though producing such boxes might be costlier than cardboard packaging, the solid construction and premium appearance coming out from a rigid box will steal the scene in store displays!
Rigid box packaging, as the name suggests, do not change its shape due to its sturdy construction and support, giving it a premium look and feel. They also offer many branding capabilities through various finishes such as hot stamping for foiling and UV spot gloss, embossing/debossing and soft touch vinyl wrapping, hence maximizing branding and visual real estates.
CHILD RESISTANT (CR) RIGID JOINT BOX FOR MULTIPACKS

It is known that the most universal regulation for packaging in the United States is child-resistance (CR), especially in Alaska, Arizona, California, Colorado, Connecticut, Guam, Hawaii, Illinois, Maryland, Massachusetts, Minnesota, Nevada, New Mexico, Northern Mariana Islands, Oregon and Washington have laws that require this. (More info about MJ packaging and labeling laws by State here)
The term child-resistant packaging is defined in the U.S. Poison Prevention Packaging Act of 1970 (PPPA) as "significantly difficult for children under five years of age to open or obtain a toxic or harmful amount of the substance contained therein within a reasonable time and not difficult for normal adults to use properly."
Most child-resistant features are commonly found in the form of safety caps, blister packs, aerosol cans and zipper closures.  With the constant innovative nature of the cannabis industry and an increasing demand for rigid box packaging, this has allowed the people behind Canna Brand Solutions to creatively adapt child-resistant features into rigid boxes.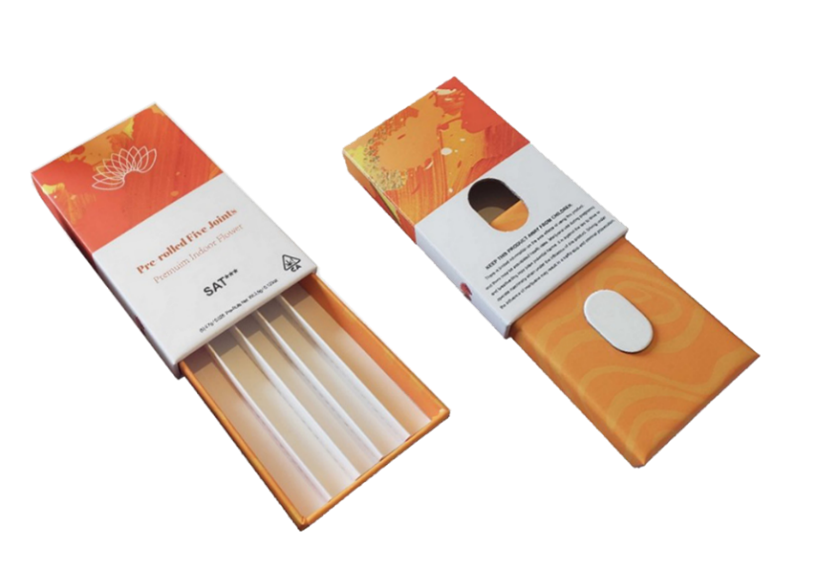 With companies paying more attention to making their pre-roll packaging, designing more consumer-focused custom pre-roll packaging is in high demand. Through months of research and development, our Custom Child Resistant rigid joint boxes are perfectly engineered with a fully functional and secure press-to-unlock child-resistant mechanism. In fact, our design of the CR rigid joint box has been CR tested and CR certified.
In addition to a fully CR certified design, Canna Brand Solutions offers customizable options for a variety of sizes and finishes, such as foiling, UV spot gloss, soft touch application, embossing and debossing to maximize the marketability of the brands' pre-roll products.
CR RIGID BOX PACKAGING FOR ALL HIGH-VALUE, PREMIUM PRODUCTS
Many brands today are utilizing this premium box packaging option and Canna Brand Solutions offers a range of tried-and-true custom rigid box packaging solutions that shouts creativity and sophistication.
Other than packaging joint packs, Canna Brand Solutions also offers rigid box packaging solutions for other categories such as 510 carts, 510 batteries, vape pods systems, single-use disposables, concentrate containers, topical containers, and salve containers.
Check out more custom packaging solutions that CB Solutions offer here.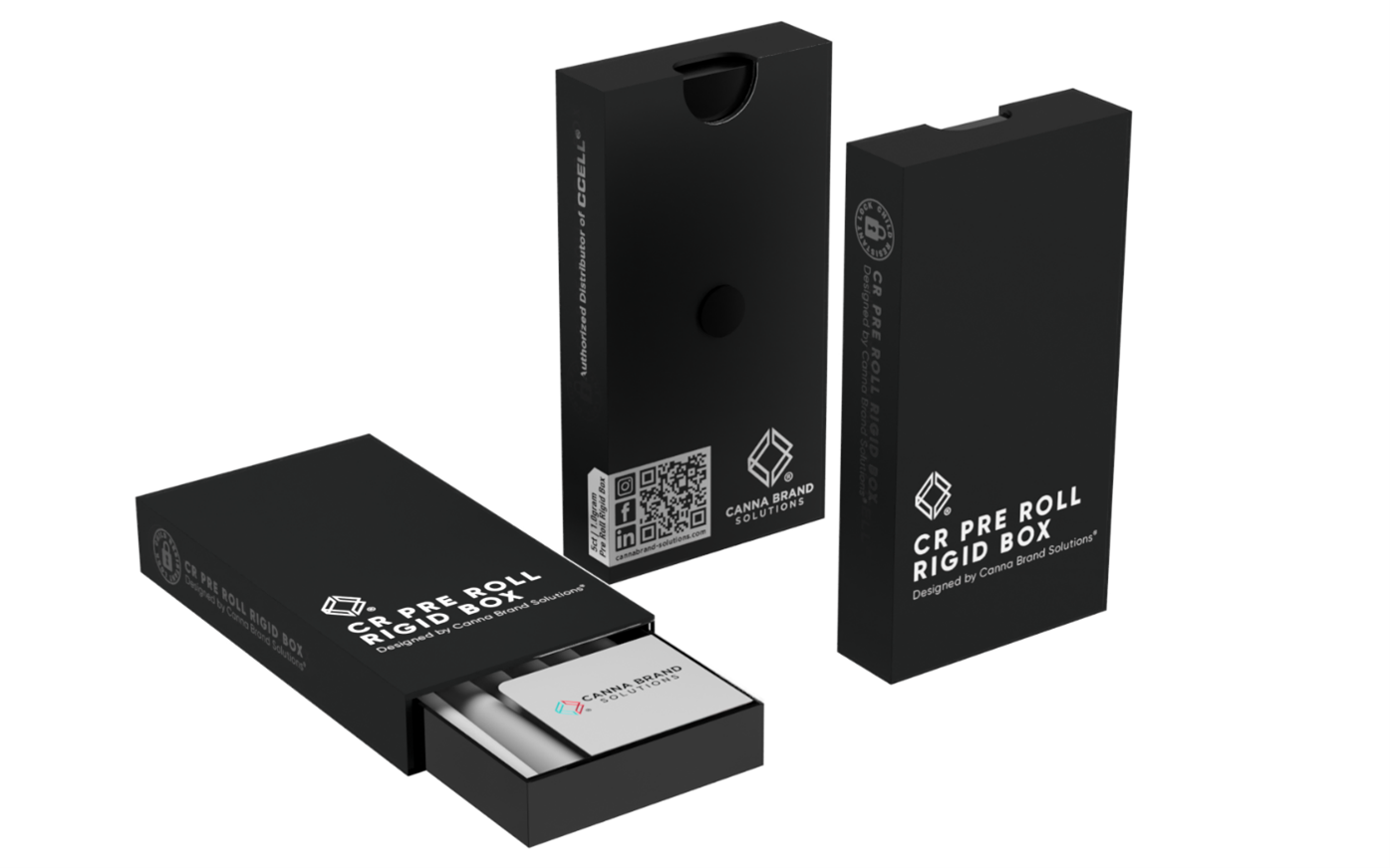 About Canna Brand Solutions
Canna Brand Solutions is an innovative custom packaging supplier and an official CCELL Distributor. We are a wholesale cartridge, battery, and packaging supplier, and more. Our passion to build lasting relationships with our partners motivates us to exceed your expectations, helping you grow your brand in this ever-evolving global industry.
With our deep experience in manufacturing and the cannabis industry, we offer adaptive custom packaging solutions, in-house design, and industry expertise to Cultivators, Extractors, Operators & Retailers.
Our partner's success is our commitment. When you partner with us, you partner with family.