July 1st, 2021 marked a momentous day for the Connecticut when the bill for recreational use was approved, making it the 18th state to legalize adult-use cannabis. While recreational use becomes legal, the easing of restrictions on cannabis in the Constitution State has been a decade-long process.
While laws are being set up to provide a deliberate process towards legalization, the rollout is not as immediate as expected.
CONNECTICUT CANNABIS: A DECADE-LONG JOURNEY TOWARDS RECREATIONAL
The road towards adult-use recreational legalization started in June 2011 when then Governor Dannel Malloy signed a legislation that decriminalized possession. Although, the State's stance at that time was to divert its criminal justice resources towards "more serious" offenses.
It was not until a year after in June 2012 that Gov. Malloy signed HB 5389, an act concerning the palliative use of cannabis, providing patients with protection from arrest when using or possessing up to one-month supply of medical cannabis and allows them to designate caregivers to assist them. Final regulations were issued in 2013, and dispensaries began offering medicine to registered patients in September 2014, with six dispensaries opening throughout the state. Three additional dispensaries were licensed in 2016, with six new conditions added to the program which includes qualifying minors for access, protecting employees' rights for medical cannabis from firing or refusing to hire and allowing dispensaries to provide medical cannabis to medical facilities serving registered patients. In 2020, six new qualifying conditions including chronic pain and opioid abuse were added into the list.
Several Multistate Operators (MSOs), including Curaleaf, Green Thumb Industries and Trulieve, have spent tens of millions to enter or expand in Connecticut's MMJ market and position themselves for the possible legalization of recreational cannabis.
In April 2018, an attempt for recreational legalization was made when a bill was approved to be sent to the General Assembly but was ultimately stalled. In March 2020, Governor Ned Lamont proposed Senate Bill 16 that had legislative support, only for the state government to shut down due to the Covid-19 pandemic two weeks after. Gov. Lamont renewed the effort to legalize recreational cannabis in April 2021 in the form of Senate Bill 888, vowing to make a push for legalization that would enable sales in May 2022. Unfortunately, due to concerns of lack of provisions for social equity within the bill, it was then amended.
Finally, in June 2021, Lamont signed Senate Bill 1201, officially legalizing recreational cannabis in the state of Connecticut. The bill states that possession among adults aged 21 and over will be legal in the state of Connecticut beginning July 2021. Retail sales aimed to begin by the end of 2022, with products that contained delta-8-THC, delta-9-THC, or delta-10-THC are considered cannabis and may only be sold by licensed retailers. Adults age 21 and over will be allowed to grow six plants indoors beginning July 2023.
TIMELINE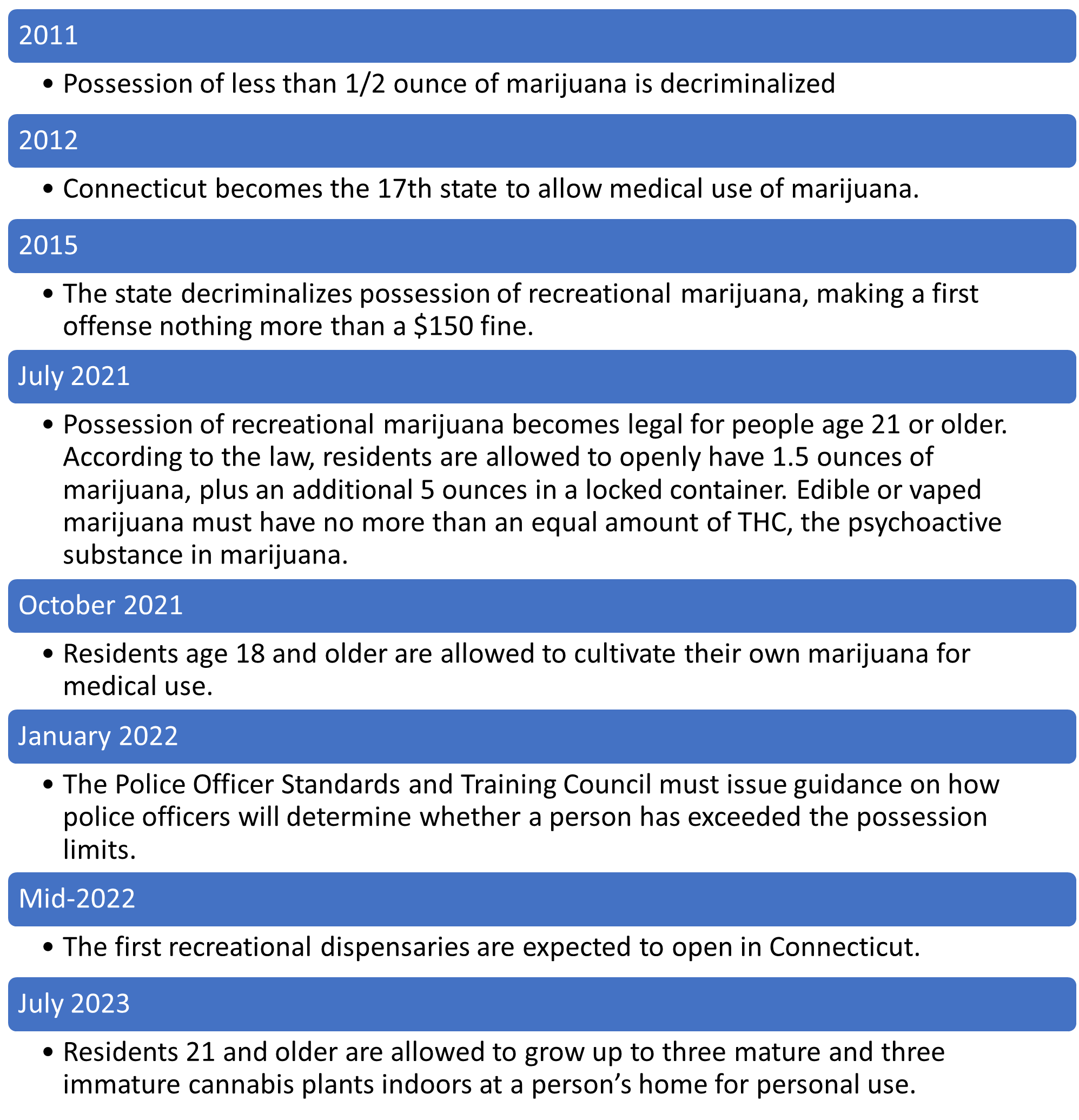 THE POTENTIAL OF CONNECTICUT'S RECREATIONAL MARKET
Connecticut legalized medical marijuana in 2014 and the nation's largest companies: Curaleaf, Green Thumb Industries and Trulieve all have footprints in the state. Chicago-based MSO Verano Holdings is the latest company poised to enter Connecticut, announcing it agreed to acquire an existing medical cultivation and processing facility in a deal worth $131.8 million.
Analysis by MJBizDaily projects that the Connecticut's projected $750 million recreational marijuana market is poised to launch before New York and have a social equity program as strong as New York's. The MJBizFactbook projects that Connecticut's adult-use sales could total as much as $250 million in the first full year and up to $750 million by the fourth year.
According to a report by the Connecticut Center for Economic Analysis (CCEA), Connecticut could bring in over $600 million in tax revenue in the first five years of adult-use sales. Connecticut's Office of Fiscal Analysis is projecting the state's cannabis industry will generate $20.4 million in tax revenue in its first full year of operation, and over $55 million in its fourth year. With its neighboring states such as Massachusetts and New York have already passed recreational laws, it was expected that Rhode Island, along with New Jersey and Vermont is expected to follow suit in legalizing adult recreational use soon.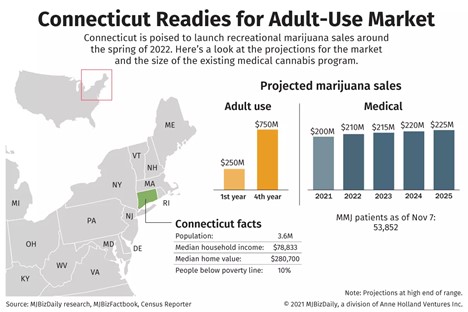 SOME CURRENT CHALLENGES FOR CONNECTICUT
Although the state of Connecticut gave the green light to recreational cannabis for adults 21 and older last year, more than 40 percent of cities and towns are opting out for now.
As retail sales are expected to start later this year, at least 75 of Connecticut's 169 municipalities have instituted bans or moratoriums, according to a Hearst Connecticut Media Group analysis. An analysis found that at least 22 municipalities have established bans and 53 have imposed moratoriums.
Many local officials have cited the need for more time to review the state law, craft new regulations and solicit public feedback, although industry advocates say prohibiting sales or businesses means towns will miss out on economic growth and tax revenues.
However, it was expected that, like other states that have taken similar stances, municipalities that initially banned the businesses will eventually open up to them.
About Canna Brand Solutions
Canna Brand Solutions is an innovative custom packaging supplier and an official CCELL Distributor. We are a wholesale cartridge, battery, and packaging supplier, and more. Our passion to build lasting relationships with our partners motivates us to exceed your expectations, helping you grow your brand in this ever-evolving global industry.
With our deep experience in manufacturing and the cannabis industry, we offer adaptive custom packaging solutions, in-house design, and industry expertise to Cultivators, Extractors, Operators & Retailers.