In the heart of the Diamond State, a new gem is emerging. Delaware, known for its rich history and the famous nickname "The Diamond State," is cultivating a new industry: cannabis. This article will delve into the journey of cannabis legalization in Delaware, the current state of the industry, and the challenges and opportunities that lie ahead.
THE PATH TO LEGALIZATION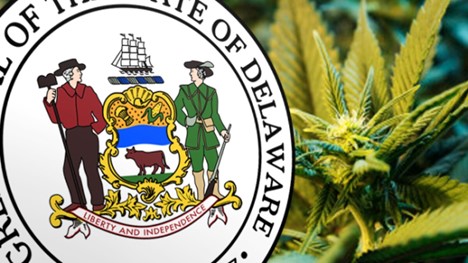 Delaware's path to cannabis legalization began with the approval of medical cannabis in 2011. However, the first dispensary didn't open its doors until 2015, marking a slow start to the industry. As of mid-2023, the state, which was supposed to have six separate medical operators since 2014, still only has five.
The journey towards recreational cannabis legalization was even more challenging. After a veto from Governor Carney on the first attempt, despite over 60% of voters approving it, Delaware finally became the 22nd state to legalize adult-use cannabis in April 2023. Governor Carney allowed HB1 and HB2 to pass into law without his signature – A landmark decision made possible
CURRENT INDUSTRY PERFORMANCE AND FUTURE PROJECTIONS
While recreational cannabis sales have yet to begin, the industry's future looks promising. According to Statista, Delaware's marijuana sales value is projected to reach approximately 54.1 million U.S. dollars by 2025. This optimistic forecast provides a beacon of hope as the state navigates the complexities of legalization and market setup.
The cannabis industry in Delaware has seen significant growth in recent years. Medical marijuana sales more than doubled from $11.8 million in 2018 to $27.7 million in 2020, with the state projecting sales of $37.3 million for 2021, a 35% increase from the previous year. This growth will continue with the legalization of recreational cannabis.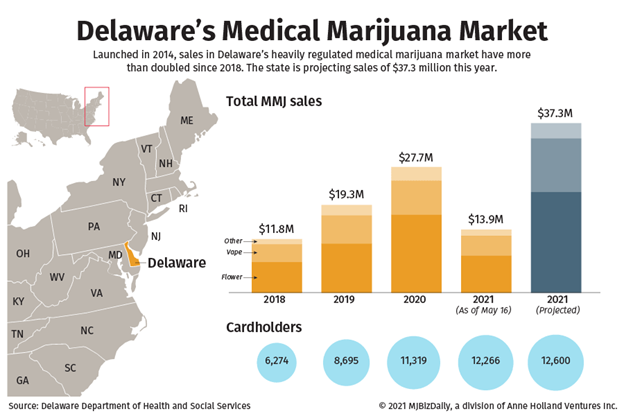 The state's medical marijuana market is set to double the number of vertically integrated operators from 3 to 6. This will likely lead to an increase in product selection and potentially lower prices for consumers. The new licenses were awarded to three operators, all fall under the category of minority- or veteran-owned business enterprises.
REGULATORY CHALLENGES AND UPDATES
Despite the progress made, the cannabis industry in Delaware faces several challenges. The first step is the appointment of a commissioner for the adult-use cannabis industry, responsible for market regulations and setting up the application process for potential operators. The earliest licensing applications are expected in May 2024.
After the licenses are issued, the process of growing, processing, packaging, and distributing the cannabis begins, which is a time-consuming venture. Deadlines for issuing cannabis licenses have been set:
Cultivation licenses by July 2024
Manufacturing licenses by August 2024
Retail and laboratory testing licenses by November 2024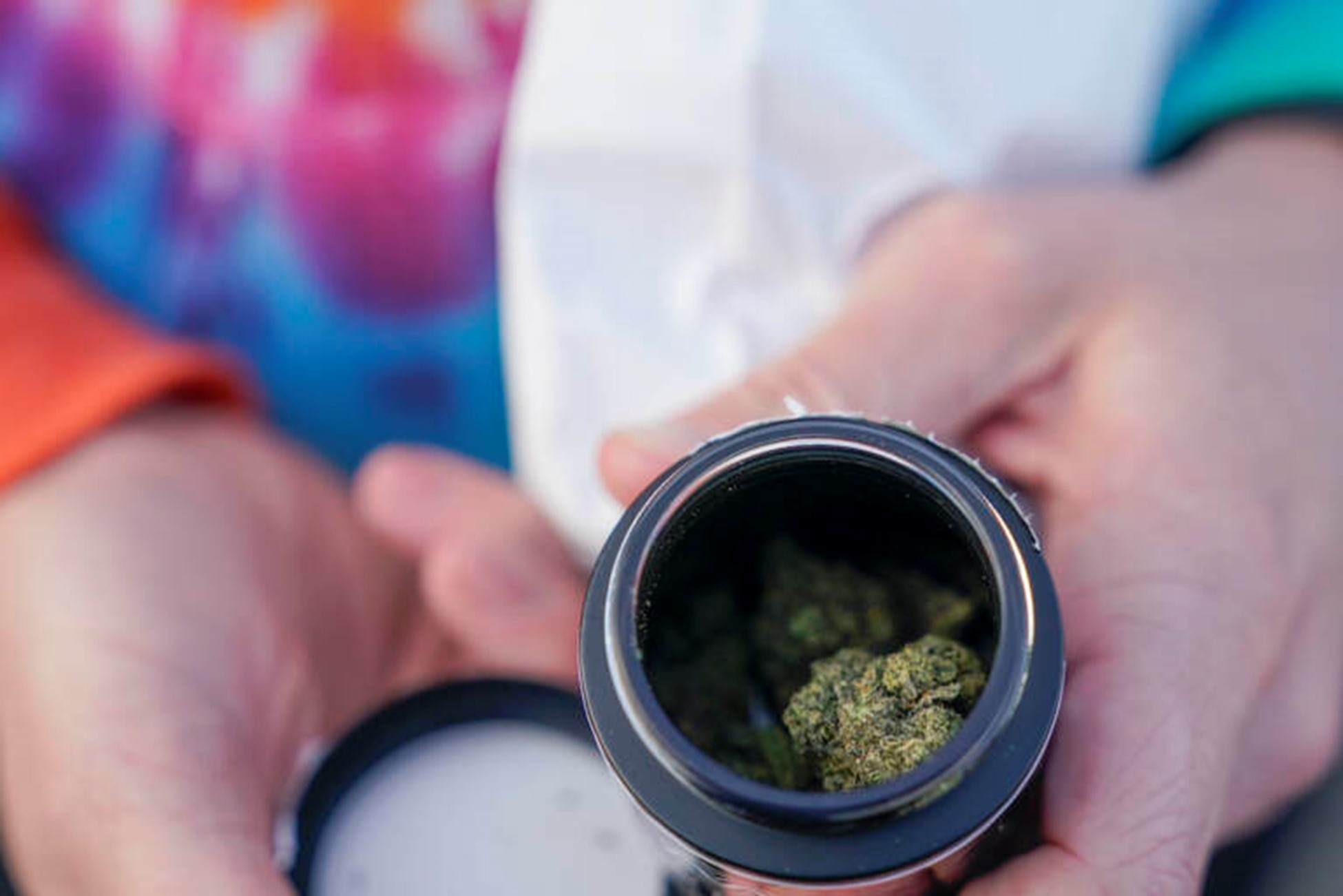 Source:  A customer displays some marijuana he just purchased at a RISE dispensary in Bloomfield, N.J., Thursday, April 21, 2022 Whyy.org (AP Photo/Seth Wenig)
However, the transition to a recreational market is not without its challenges. Existing medical marijuana operators have expressed concerns about potential oversupply and inability to automatically opt into the recreational market. They argue that the proposed legislation could lead to a glut of cannabis on the market and potentially harm the medical cannabis industry.
A BRIGHT FUTURE FOR DELAWARE'S CANNABIS INDUSTRY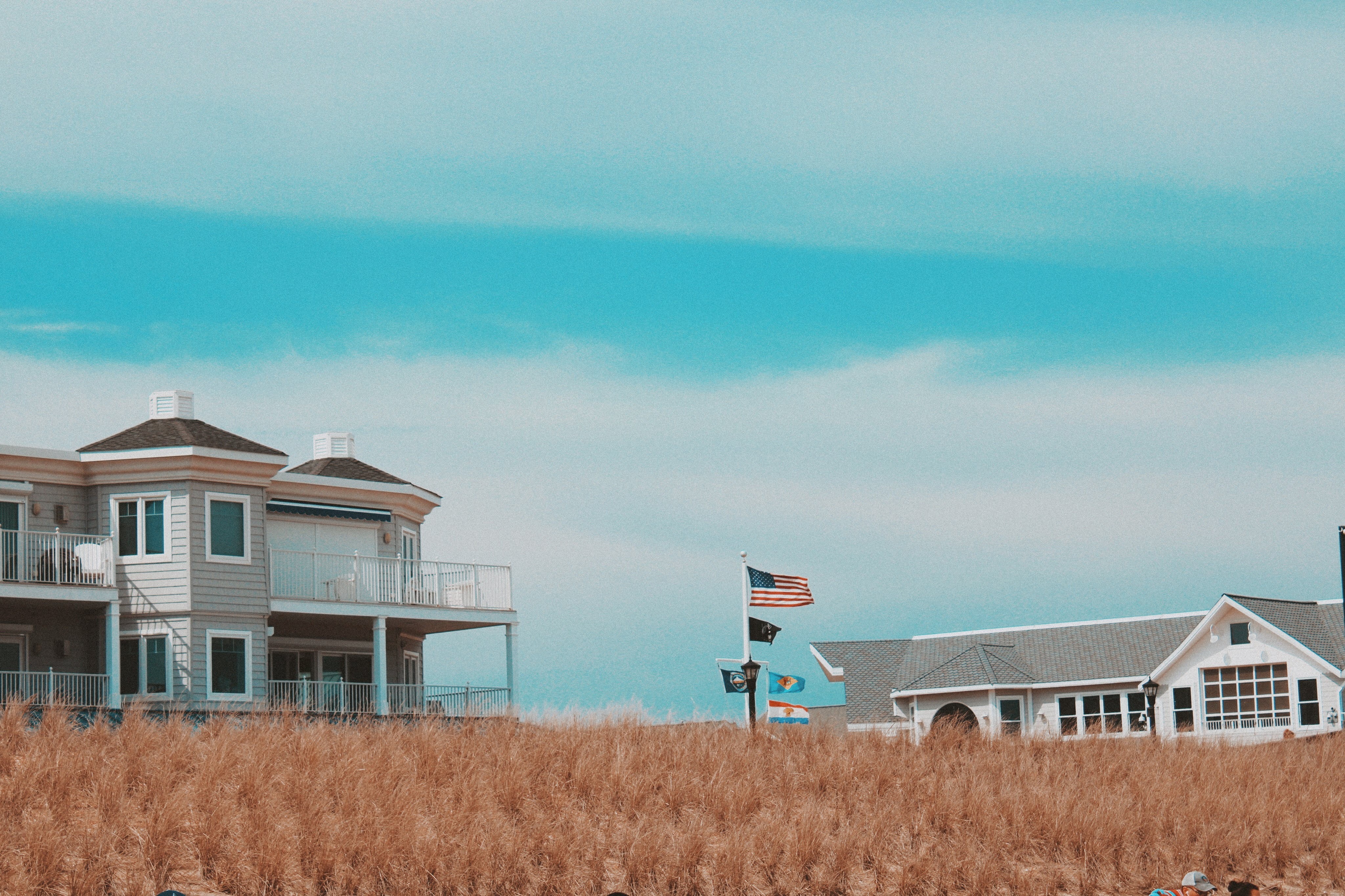 Despite these challenges, the future of the cannabis industry in Delaware looks promising. Residents of Delaware can now legally possess up to an ounce of cannabis, even if bought illegally, until legal sales begin. This early impact of the law change represents a significant step forward in the right direction.
In conclusion, the cannabis industry in Delaware is a burgeoning market with immense potential.  The journey may be long and winding, but the destination promises a lush landscape of green opportunity.
Canna Brand Solutions is an innovative custom packaging supplier and an official CCELL Distributor. We are a wholesale cartridge, battery, and packaging supplier, and more. Our passion to build lasting relationships with our partners motivates us to exceed your expectations, helping you grow your brand in this ever-evolving global industry. With our deep experience in manufacturing and the cannabis industry, we offer adaptive custom packaging solutions, in-house design, and industry expertise to Cultivators, Extractors, Operators & Retailers.