HOW TO MAKE SURE YOUR CCELL® CARTRIDGE IS REAL?
Is your CCELL cartridge real or fake? What seems like a good deal on your CCELL cartridges may be too good to be true. Here are ways to verify if your cartridge is authentic or a cheap knockoff.
You may have thought that you paid a bargain price and scored a high quality CCELL® cartridge. But in reality, you may have just wasted hard-earned money on a sub-par counterfeit. These cheap knockoffs not only diminish your vaporizing experience, but also pose safety issues as they could be made with toxic materials in a shabby, unlicensed factory.
Buying authentic CCELL products proves to be crucial for businesses as well because it ensures product quality, safety, and reliability. While buying cheap replications can seem alluring at first, the short-term benefit of cost-saving proves to be detrimental in the long-term on account of patent infringements, product safety and consumer health risk.
Canna Brand Solutions is an official wholesale CCELL distributor, working only with state-licensed processors, extractors, and retailers in the industry. As an authorized CCELL supplier, we sell only original CCELL products, compliant and lab-tested, for the benefit of our customers and the safety of the consumers.
How do you make sure the CCELL cartridges that you bought is the real deal without taking the cartridge apart? There are several steps you can take to authenticate your CCELL cartridge, thus we are going to show you how to do just that.
VERIFYING THE AUTHENTICITY OF YOUR CCELL 510 CARTS
All CCELL cartridges, including the CCELL M6T05, CCELL M6T10, CCELL TH205 and CCELL TH210, are equipped with patented ceramic heating elements that deliver excellent performance. Each 510 cartridges manufactured by CCELL include proprietary components that work seamlessly together.
When authenticating CCELL cartridges, pay close attention in these 4 parts: Laser-engraved logo, Serial numbers, Inlet holes and Silicone rings.
LASER-ENGRAVED LOGO & SERIAL NUMBERS
Typical CCELL cartridges have a CCELL logo laser-engraved on the bottom metal collar. Some brands may have opted out of the highly visible CCELL logo and replaced it with their own branded logos. This is when you look for the second CCELL logo, located at the bottom face of the cartridge.

SERIAL NUMBERS
Flip the CCELL cartridge with the bottom facing upwards and you will notice a CCELL logo with a registered trademark symbol etched onto the metal face. This engraving became the standard for authentication purposes since late 2019. Any unusual-sized fonts or off-white font color/tinting shows that the product is fake. The CCELL logo is accompanied by an engraved serial number to indicate the manufacturing batch, starting with a letter such as C, L, M, A or CA, followed by a series of numbers. The serial number can be used as a reference to track the product's lot.
INLET HOLES
All authentic CCELL carts have 6 inlet holes designed to efficiently absorb oil from the tank and into the atomizer:
4 of the inlet holes are placed around the base within the tank
2 inlet holes are located above the 510 thread and below the bottom metal collar. (Most counterfeit cartridges rarely have these 2 inlet holes)
SILICONE RINGS


There are a few white, semi-transparent silicone rings fitted around various parts of the CCELL cartridge, depending on which types of CCELL 510 cartridges you are holding:
CCELL M6T05 and CCELL M6T10: The silicone ring is fitted at the base of the press-fit mouthpiece. It is visible when you turn the cartridge upside down after assembled.
CCELL TH205 and CCELL TH210: Silicone rings are located (1) at the bottom of the screw-on mouthpiece, (2) above the threading of the inner pole and (3) below the inlet hole inside the cartridge (Only a single silicone ring, not two).
Authentic CCELL cartridges have a clear silicone ring fitted inside the 510 thread. Most knockoff cartridges will have a white, opaque silicone ring.
HOW TO AUTHENTICATE YOUR CCELL PODS?
Similar to the serial numbers on CCELL cartridges, CCELL pod systems have the word "CCELL" and a serial number (Starting with C, L, A, M or CA, followed by a number series) printed on the reservoir housing of the CCELL pods. The printing is only visible before the housing is assembled with the tamper-resistant mouthpiece. Unlike the 510 cartridges, there should be no etchings on the base of the pods.
This applies to the CCELL Dart, CCELL Bellos, CCELL Uno and CCELL Luster.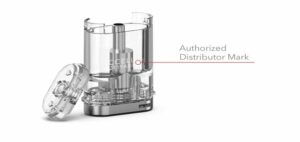 Always purchase your CCELL cartridges and CCELL pods from a licensed retailer. With these steps, you can easily determine if you have bought safe, quality, and authentic CCELL products.
If there is still doubt about the CCELL cartridges that you have just bought, make sure to have the product's serial number on hand and reach out to the Canna Brand Solutions team for further verification.
NEED THE PERFECT CUSTOM PACKAGING FOR CCELL 510 CARTRIDGES AND CCELL POD SYSTEMS?
We provide a wide array of cart packaging solutions that elevate your brand and meet your compliance needs. Our team's approach to integrating production with innovation and creativity is what sets us apart.
Check out our solutions for 510 cartridge packaging and Pod system packaging
About Canna Brand Solutions
Canna Brand Solutions is an innovative custom packaging supplier and an official CCELL Distributor. We are a wholesale cartridge, battery, and packaging supplier, and more. Our passion to build lasting relationships with our partners motivates us to exceed your expectations, helping you grow your brand in this ever-evolving global industry.
With our deep experience in manufacturing and the cannabis industry, we offer adaptive custom packaging solutions, in-house design, and industry expertise to Cultivators, Extractors, Operators & Retailers.
Our partner's success is our commitment. When you partner with us, you partner with family.