CUSTOM VAPE PACKAGING OPTIONS
Searching for the best custom vape cartridge packaging to market your 510 carts? Here's a list of what we offer to house your 510 cartridges.
When it comes to merchandising 510 cartridges, oil companies are constantly searching for THE custom packaging to stand-out in retail stores and dispensary shelves, all while ensuring adequate protection of the product for before and after purchase.
Here are the four most sought-after custom cartridge packaging available in the market today.
RIGID BOX

– THE LUXURY iGADGET FEEL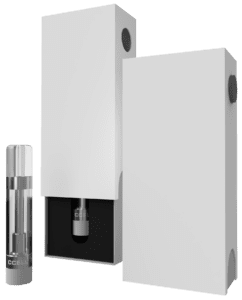 Commonly known as set-up boxes, gift-boxes and premium boxes, rigid boxes are made with high-thickness paperboard wrapped in vinyl, making them the trending premium packaging in the market. The added thickness of the material gives it a strong and sturdy construction with a paramount feel. The inner box can be either fitted with custom folded cardstock inserts or a custom molded EVA (Ethylene-vinyl acetate) foam insert to securely hold your 1g or 0.5g oil cartridges in place.
Some custom packaging companies such as Canna Brand Solutions offer a child-resistant option to the box for additional security.
Rigid boxes have many customizing capabilities such as printing, hot stamping, embossing, debossing, and finishing/coating (such as UV spot gloss & soft touch).

Canna Brand Solutions develops custom rigid boxes that fit perfectly with top-of-the-line 510 cartridges such as CCELL cartridges.
Some retail stores and dispensaries also use rigid boxes for their 510 battery packaging and pod system battery packaging. Its strong and rigid structure allows the batteries to be safely stored before and after purchase.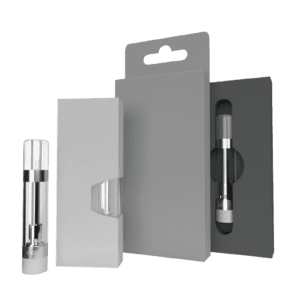 Also known as paperboard box or folding cartons, custom cardstock boxes are one of the most versatile cartridge packaging thanks to its flexibility. More cost-efficient to its rigid counterpart (rigid boxes), they are available in various shapes and sizes for its bendability. Between the thickness of 10 PT (0.010 inch) to 20 PT (0.020 inch), cardstock boxes are light to ship while still being sturdy enough to hold the weight of a 0.5g cart or 1.0g cart. The inside of the cardstock box can be fitted with a folded cardstock insert or a custom molded EVA foam to properly secure and protect the 510 carts.
Cardstock packaging is perfect for customization as it can be designed with a number of printing and foiling options to maximize your brand narrative. From adding a transparent, poly window for an inside preview of the oil cartridge, to metallic foiling and UV spot gloss stamping, there are a myriad of ways to make your 510 cartridge packaging visually appealing to consumers. Creative design works wonders on these custom cardstock boxes in bringing your brand to life with creative graphic concepts.

Most card stock boxes are made from biodegradable and recyclable materials, which makes this an environmentally friendly option for your customers. Many consumers are becoming more concerned with their carbon footprint, so they appreciate businesses that play their part in minimizing it.
For more than half a decade, Canna Brand Solutions has worked with many processors and extractors to develop unique and personalized custom cardstock box designs for pre-filled cartridge packaging to successfully capture the wandering eyes of retail stores and dispensary customers.
TRAPPED BLISTER – EASILY ASSEMBLED, TAMPER-EVIDENT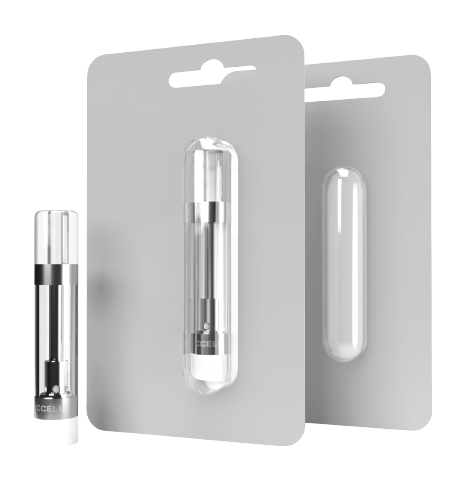 Trapped Blister packaging (AKA Trap Seal Pack) is a high performing alternative to the traditional blister packaging. It is a type of blister packaging that involves "trapping" a thermoformed blister glued between a folded card or two cards. It combines the best of both clamshells and blisters, creating a perfect packaging solution with plenty of visual real-estate while featuring a clear window to display the product.
As a popular choice for cartridge packaging, trapped blisters offer high visibility while its tamper-proof solution offers adequate protection to the 510 carts. Trapped blisters are also popular in retail stores and dispensaries as they can be hung on the wall to maximize shelving space. The cards used for this type of custom cart packaging serve as a mini-billboard for your oil carts by allowing ample space for graphics and branding. They can be made into custom shapes, thickness, and sizes, with various printing and stamping options to choose from.

Canna Brand Solutions have perfected the design for custom trapped blister packaging for 0.5ml and 1.0ml cartridges. Named as Trap Seal Packs, this custom cart packaging includes a fold-over cardstock with a pre-applied peel-and-stick adhesive and a recycled plastic blister cavity. The peel-and-stick adhesive allows minimal assembly work, which reduces cost of labor as it requires no additional heat sealing.
Our Trap Seal Packs are available not only for custom cartridge packaging for top-of-the-line brands such as CCELL cartridges, but also in many shapes and sizes to package other products such as single-use disposables , pods systems and concentrate containers (6ml jars, 7ml jars). Check out our selection of custom packaging products here.
About Canna Brand Solutions
Canna Brand Solutions is an innovative custom packaging supplier and an official CCELL Distributor. We are a wholesale cartridge, battery, and packaging supplier, and more. Our passion to build lasting relationships with our partners motivates us to exceed your expectations, helping you grow your brand in this ever-evolving global industry.
With our deep experience in manufacturing and the cannabis industry, we offer adaptive custom packaging solutions, in-house design, and industry expertise to Cultivators, Extractors, Operators & Retailers.
Our partner's success is our commitment. When you partner with us, you partner with family.