Since its recreational legalization in 2019, the state of Illinois is one of the fastest growing markets in the United States, with more and more municipalities allowing adult-use dispensaries.
The Prairie State has grown 6% quarter-over-quarter in the second Quarter of 2022, with sales passing $1.5 billion annually and total tax revenue increasing by 50%. In regards to fighting for social justice and social equity, Illinois has been at the forefront of the industry.
Despite the state's impressive growth and social justice efforts, its potential is considered restricted due to high costs in tax and regulatory blunders, making budding entrepreneurs difficult to cash in on the flourishing market.
ILLINOIS HISTORY: FROM PROHIBITION TO LIBERATION
Cannabis use in Illinois was technically legal for over a century since its statehood in 1818. It was not until 1931 that Illinois outlawed recreational use, being one of the first U.S. states to ban before the national ban through the Marihuana Tax Act of 1937.
In 1978, the Prairie State passed the Cannabis Control Act, which would have allowed State police and the Department of Human Services to regulate medical cannabis. However, the lack of actions from both departments made the effort fruitless.
Illinois legalized medical cannabis in 2013 with the Illinois General Assembly passing the Compassionate Use of Medical Cannabis Pilot Program Act (MCPP), making it the 20th state to do so. August 13 marks the date when then Governor Patrick Quinn signed into law the state's medical program, which took effect in January 2014 and medical sales began in 2015. Decriminalization efforts were seen in July 2016 when the state reduced punishment for under 10 grams to a $100-200 fine and setting the requirements for DWI at 5 nanograms/ml of THC in the blood.
Between 2018 and 2019, the medical market was greatly expanded to become available as an opioid painkiller replacement and Governor J.B. Pritzker signed into law legislation that makes Illinois' medical program permanent. As of October 2020, the Medical Cannabis Patient Program had significantly grown to over 143,000 qualifying patients participating in the state's medical cannabis and opioid alternative programs.
Finally, in May 2019, the Illinois General Assembly passed HB 1438, also known as the Illinois Cannabis Regulation and Tax Act. This made Illinois the 11th state to legalize recreational use with sales beginning on January 2020. Illinois made history in the process, becoming the second state legislature (along with Vermont) to approve recreational weed use, but the first to also legalize recreational distribution.
The bill also expunged the criminal records of nearly 800,000 residents in the state who have possessed or purchased cannabis (without violence). In addition, more than 700 applications were submitted for the second round of newly awarded dispensary licenses, with over 600 were considered "social equity" applicants who meet certain criteria to benefit historically disenfranchised communities.

ILLINOIS' CANNABIS SOCIAL EQUITY PROGRAM
As part of the 2019 Cannabis Regulation and Tax Act (CRTA), the Illinois Cannabis Social Equity Program was created to offer disenfranchised people and communities of color impacted by the war on drugs an opportunity to benefit from the industry. The program includes a lottery that high-scoring applicants can enter to receive up to 10-75 available licenses for retail dispensaries.
However, due to delays in the process due to the Covid-19 pandemic, out of 900 applicants that filed only 21 were allowed to advance to the lottery. Concurrently, the process itself was further put on hold due to issues such as problems in scoring and tiebreaking process and the lack of diversity from the finalists. In May 2021, House Bill 1443 was introduced to resolve some of the issues in the original CRTA bill. Following the amendment of HB1443 in May 2021, the lottery process were further outlined to allow more licenses to be won (185 licenses).
By July 29, 2022, Gov. Pritzker and the Illinois Department of Financial and Professional have issued a total of 177 conditional licenses that were selected in a series of three lotteries held after June 2021. Of the applicants selected for licenses, 41% are majority Black-owned, 7% are majority white-owned and 4% are majority Latino-owned.
All the businesses issued conditional licenses qualify as Social Equity Applicants under the Cannabis Regulation and Tax Act. Still, the new licenses are only conditional, and the winners aren't yet fully approved to begin sales, but it allows the winners to begin building out operations in anticipation of the eventual green light from regulators. The full list of awardees can be found here.

BOOMING SALES SINCE RECREATIONAL BEGAN
Since the first day of legal recreational sales in January 2020, over 77,000 customers spent $3.2 million at dispensaries across Illinois, a historic figure as no other state, with Oregon being the second, has generated such impressive first-day rec sales. On January 6th, Gov. Pritzker's office announce that 271,169 individual transactions have totaled over $10.8 million in sales statewide within the first five days. The total sales for that month was near $40 million despite supply shortages.
In July 2025, Gov. J.B. Pritzker's office announced that sales are up in Illinois as the state received nearly $450 million in tax revenue from $1.5 billion in recreational sales. The amount of taxes collected from recreational marijuana sales went from $297.7 million in fiscal year 2021 to $445.3 million in 2022, an increase of 50% from the previous year. Overall, recreational sales went up 50%, going from $1 billion to $1.5 billion. Cannabis tax disbursements to the local governments climbed from $82.8 million in 2021 to $146.2 million in 2022 — a 77% increase.
Under Illinois law, 25% of the tax revenue generated from adult-use cannabis sales must support economically distressed communities, or those experiencing high rates of violence or are disproportionately impacted by the criminalization of drugs.
The state, through the Illinois Criminal Justice Information Authority's Restore, Reinvest, and Renew Program, has awarded $113.5 million in grants with funds generated by the adult-use cannabis sales to underserved communities that were most impacted by the war on drugs, gun violence, unemployment, imprisonment, and child poverty. Of the $113.5 million in grants, the Illinois Equal Justice Foundation has awarded more than $1.4 million in grants to 18 organizations across the state to help expunge cannabis records. The 18 organizations working under New Leaf Illinois have already assisted 1,700 people this year with legal counseling and filling out forms for expungement.
ILLINOIS MARKET COULD STILL DO BETTER
According to a fact check article by Illinoispolicy.org, Illinois barely hit the bottom of its own projection and the revenue is thinner compared to other states, bringing in the second-lowest revenue per capita. Should Illinois' revenue have matched Colorado or Washington, in proportion to the size of their economies and population, the current achievement is $600 million shy annually.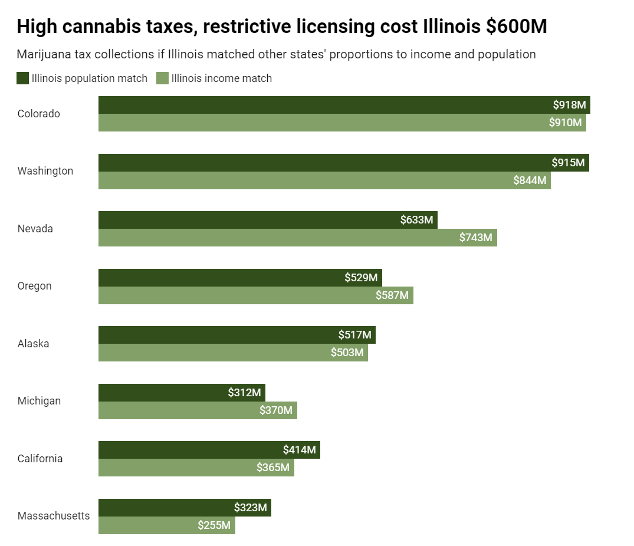 While Illinois has seen a 50% increase in total tax revenue, the state still makes it difficult to operate a business due to high costs and regulations. According to Pam Althoff, executive director for the Cannabis Business Association of Illinois, Illinois has some of the strictest regulations in the nation. Tax can be up to 40% or more depending on potency. The taxes are split into several ways, with more than a third goes to the state's general revenue fund, 10% goes to unpaid bills, 8% goes to law enforcement and 2% goes to public safety campaigns. A craft grower contract with the state could even cost the grower nearly $125,000 just to apply.
High tax rates and strict regulatory burdens prevent Illinois from tapping the full potential of marijuana tax revenue. On top of taxes, a lack of supply drives up cannabis prices. Illinois is the only state with a hard cap on the number of marijuana-related business licenses. Illinois has 110 active cannabis dispensaries, but regulatory headaches have kept that number low.
Additionally, the botched lottery system that promised 149 additional licenses were only issued on July 22, 2022, more than 2 years after Illinois' first recreational sales in 2020.
THE FUTURE FOR ILLINOIS
Given the 3.5 million square feet of production and robust end-consumer market, Illinois has enough in-state cultivators to satisfy local demand. Further, it is expected that stabilization will occur in less than 3 to 5 years.
In the nearer term, Illinois demand will be bolstered by out-of-state sales. However, it is more than likely that the out-of-state customers will soon have a home state supply or be afforded the luxury of a change in Federal Law that allows for interstate traffic.
About Canna Brand Solutions
Canna Brand Solutions is an innovative custom packaging supplier and an official CCELL Distributor. We are a wholesale cartridge, battery, and packaging supplier, and more. Our passion to build lasting relationships with our partners motivates us to exceed your expectations, helping you grow your brand in this ever-evolving global industry.
With our deep experience in manufacturing and the cannabis industry, we offer adaptive custom packaging solutions, in-house design, and industry expertise to Cultivators, Extractors, Operators & Retailers.