With New York and New Jersey legalizing recreational cannabis, it seems like Pennsylvania is still undecided as to whether it should go recreational or stay in its medical lane.
The Keystone State legalized medical use cannabis in 2016 and its medical market has grown well beyond expectations to the point that it has been deemed as mature. However, it does not mean that the state's current medical market is not without problems such as industry consolidation, falling prices and social justice woes.
HISTORY OF CANNABIS IN PENNSYLVANIA
The history of cannabis in Pennsylvania dates back to the colonial days when the state's founder William Penn, a strong proponent of hemp, made it legal in 1683 for farmers to grow hemp. The hemp farms in Pennsylvania thrived until the "Reefer Madness" scare in the 1930's. As a result, then governor of Pennsylvania banned cannabis in 1933, 4 years before the federal government outlawed it.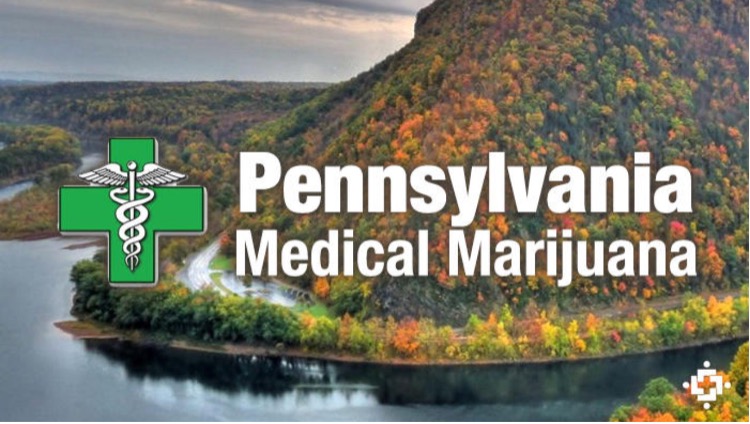 It was not until in 2016 that Governor Tom Wolf signed Senate Bill 3 into law, giving physicians approval for treatment of 17 qualifying conditions and made Pennsylvania the 24th state to legalize medical use. The first sale of medical cannabis took place on February 15, 2018.
In terms of legalization efforts, in 2019, Governor Wolf embarked on a 98-day statewide tour to gather public input on the topic of legalizing recreational use which resulted in 68% in favor of legalization and decriminalization. Throughout the year 2020, Governor Wolf had made three calls publicly for the legislature to legalize recreational use in the state. Despite polls in the following years showing support for legalization (2021 – 58%, 2022 – 66%), the call for full legalization has yet been answered to date. On June 30, 2021, Gov. Wolf signed HB 1024, which updated Pennsylvania's medical cannabis legislation. The law went into effect upon his signature.
DECRIMINALIZATION IS LONG OVERDUE
There are several cities in the state of Pennsylvania that have decriminalized cannabis before the state's medical program took place. However, even with decriminalization, police in these cities are still given the choice to follow state law enforcement guidelines regarding cannabis arrests. More than a dozen state and federal lawsuits have shown that medical marijuana patients in Pennsylvania are being denied work, demoted, or fired for consuming cannabis. Vague safeguards have left them and their employers to navigate a legal gray area.
In September 2022, Governor Tom Wolf and fellow Democrat Lt. Gov. John Fetterman announced the Pennsylvania Marijuana Pardon Project to pardon past convictions for marijuana offenses. However, some are concerned that the criteria for the pardon is too narrow: Eligible convictions do not include the use of paraphernalia, which can include grinders, rolling papers, smoking devices, and even plastic baggies.
SALES IN PENNSYLVANIA'S MEDICAL MARKET
In July 2022, sales grew 0.5% to $95.3 million – a 13.5% decrease compared to the previous year. Flower sales have declined 11% year-over-year with concentrates falling 16% and ingestibles dropping 8%.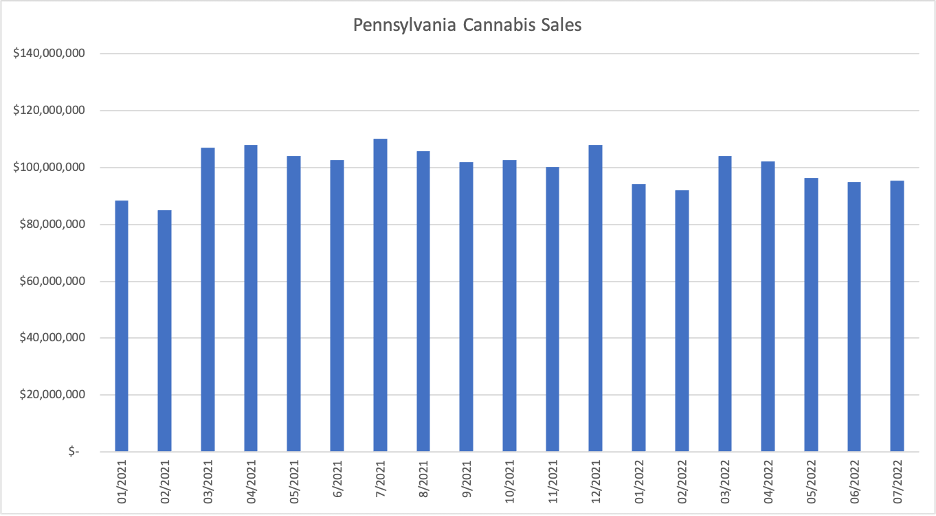 According to state data issued in July, 26 growers/processor licenses have been awarded, with 23 actively growing and processing while the remaining 3 are in various stages of operation. The state limits dispensary licenses to 50 and has recently upped the number of clinical registrant licenses from eight to 10 and clinical registrant dispensaries from 48 to 60. There are currently 161 medical cannabis stores open and operating in the state.
According to the 2022 MJBiz Factbook, the state's medical marijuana sales is projected to range from $1.6 billion to $2.0 billion, up from $1.2 billion to 1.5 billion in 2021. As of May 2022, 712,421 patients were registered in the program, which is about 5% of the total population of the state.
PENNSYLVANIA IS IN UPHEAVAL DUE TO CONSOLIDATION AND FALLING PRICES
Consolidation is playing out across the nation's cannabis industry with Pennsylvania being the perfect case in point. Smaller companies are getting pressured by falling wholesale prices and getting sidelined by massive consolidation among multistate operators. Wholesale prices are sliding as the state's patient count has plateaued while more production comes online as multistate operators are gearing up for recreational legalization.
The upper range for a pound of flower is closer to $3,000 a pound and around $50-$55 for an eighth of an ounce at the retail level. This situation has spurred independent operators to call for help from the state, with one company accusing regulators of failing to enforce the rules and allowing monopolistic control.
With the current climate of the state's medical market, there are no clear signs that Pennsylvania will go recreational in 2023. Maybe 2024.
About Canna Brand Solutions
Canna Brand Solutions is an innovative custom packaging supplier and an official CCELL Distributor. We are a wholesale cartridge, battery, and packaging supplier, and more. Our passion to build lasting relationships with our partners motivates us to exceed your expectations, helping you grow your brand in this ever-evolving global industry.
With our deep experience in manufacturing and the cannabis industry, we offer adaptive custom packaging solutions, in-house design, and industry expertise to Cultivators, Extractors, Operators & Retailers.