As the industry continues to grow, consumer trends and product preferences are a constantly evolving landscape. Businesses are sprouting and growing across the nation while we inch closer to federal legalization.
With that in mind, all producers and processors are paying their utmost attention to study current consumer trends for a better edge on the competition.
Here are our key findings for Cannabis Consumer Trends in 2022:
A 50% increase in consumption by consumers since 2020 with online orders increased by 55% in 1st half 2021.
Annual sales increased by 40% in 2021 to $25 billion, with an expected reach of $32 billion in annual sales for 2022.
Women are slowly becoming the largest demographic of cannabis consumption
Rising popularity on high potency and portable products: Vape, Pre-Rolls, Edibles
INCREASED CONSUMPTION & SALES
According to Weedmaps' 2021 survey, it was reported that since March 2020, 50% of consumers have increased their consumption since the beginning of the Covid-19 pandemic. Online orders have increased by 55% in the first half of 2021 compared to the previous year.
BofA Securities also reported that sales in the U.S. have increased 40% in 2021 to a whopping $25 billion. Although the increase was incomparable to the increase of 67% that 2020 had observed, it is still an impressive figure that surpassed the $18 billion sales from 2020. On a global scale, sales have increased to $31 billion in 2021, a testament of the momentum that the green wave is moving the industry forward.
The US cannabis industry is expected to reach $32 billion in annual sales in 2022, with New Frontier Data calculating the compound annual growth rate (CAGR) of the legal cannabis industry to be 11% between 2020 and 2030, putting the industry's worth at over $57 billion by 2030. Wall Street suggests that the industry will be worth even more by 2030, projecting its value to reach $100 billion.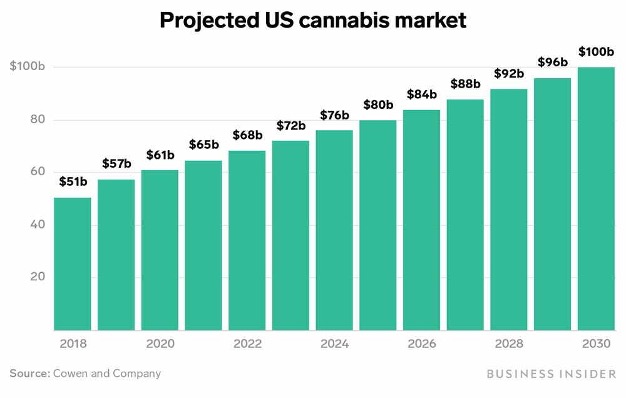 WOMEN ARE BUYING MORE CANNABIS
While both sales to both men and women have increased since 2020, sales to women have increased the most. According to data by Headset, sales to female customers have increased by 55% from early 2020 to late 2021 (male customers sales increase by 49%). The data shows that although it was about 1/3 of total sales attributed to female consumers, their market share rose from 31.7% in 2020 to 32.6% in 2021.
A 2022 report by Eaze found that from the number of new customers that consumed in 2021, 48% were female while 52% were male. While males still make up most new customers, female market share is obviously increasing and is quickly becoming the largest demographic of consumers.

HOWEVER, WOMEN REPRESENTATION IN THE INDUSTRY IS PLUMMETING DOWNWARD
Despite women buying more cannabis from a consumer trend standpoint, their representation in executive positions in cannabis companies across the country has significantly fallen since 2019. In 2019, approximately 36.8% of executive positions held in the cannabis industry were held by women, and since then has dropped to a staggering 22%.
The national average of women in executive positions across all industries is already at a fairly low rate of 30%, and to see the cannabis industry continually gain success while women and minorities slip through the cracks is certainly a data point to be aware of.
Thankfully, there are powerful female leaders still paving the way in the industry; in California, Amber Senter is creating an ecosystem that equips business owners of color to become self-sufficient industry shareholders. She has worked with Oakland's lawmakers to develop the country's first cannabis social equity program and mentored hundreds of aspiring entrepreneurs.
SHIFTING CUSTOMER PREFERENCES: HIGH POTENCY & PORTABILITY
As the industry evolves, consumers' taste for products are more sophisticated in terms of potency and innovation. With consumers developing a better knowledge about cannabis apart from THC potency levels, people are including terpenes and flavor profiles into their analysis of a product.
Many consumers today are integrating their cannabis use in their daily lives, making many on-the-go, portable products such as vapes, pre-rolls and edibles such as gummies and infused beverages gain more attention of 2022. They are discreet and easy to consume, convenient for pairing with various activities.
Pre-roll products are trending in 2022, such as infused pre-rolls and pre-roll multipacks being popular among consumers. With plenty of consumers on the go, the popularity of high-potency pre-rolls makes perfect sense. In fact, vape and pre-rolls have experiences significant year-over-year growth, with vape pens up 28.1% and pre-rolls by 38.9% from 2020.
The global cannabis-infused beverage market, according to Grand View Research, has the potential to be worth up to $3 billion by the year 2025. In 2019 itself, markets like California, Colorado, Nevada, Oregon, and Washington saw a total of $67.8 million in state sales on infused beverages. For markets that do not legally permit THC-infused beverages, many CBD drinks can be found in dispensaries.

As things are opening following the Covid-19 pandemic, many consumers are moving the enjoyment of cannabis products from their homes to social gatherings and outdoor events. According to New Frontier's survey on what form of cannabis people prefer in social gatherings, 57% responded with edibles and infused beverages, after flower, vape and tincture.
CANNA BRAND SOLUTIONS: YOUR GO-TO SOURCE FOR CCELL VAPE HARDWARE, PRE-ROLLS & EDIBLES PACKAGING
CCELL Hardware & Vape Custom Packaging

Pre-roll Tubes, Multi-pack Boxes & Tins

Edible Tins

About Canna Brand Solutions
Canna Brand Solutions is an innovative custom packaging supplier and an official CCELL Distributor. We are a wholesale cartridge, battery, and packaging supplier, and more. Our passion to build lasting relationships with our partners motivates us to exceed your expectations, helping you grow your brand in this ever-evolving global industry.
With our deep experience in manufacturing and the cannabis industry, we offer adaptive custom packaging solutions, in-house design, and industry expertise to Cultivators, Extractors, Operators & Retailers.
Our partner's success is our commitment. When you partner with us, you partner with family.