Since California first approved medical cannabis, there are now 33 states have followed on its footsteps. However, in Maryland, it has been a lengthy and awkward trip.
Despite a delayed start since the beginning, the Old Line State medical market had seen immense growth in sales until 2022 when dispensary sales observed a significant drop. While voters in Maryland are anticipating that the November 2022 ballot will ensure adult-use legalization to pass, recreational sales might be far out as 2025.
MARYLAND CANNABIS HISTORY
The crusade towards decriminalization started with a young Baltimore City mayor in the 1980s, when Kurt Schmoke openly supported decriminalizing cannabis as a better approach to the War on Drugs. Despite a positive start, it would take about 3 decades for Governor Martin O'Malley to decriminalize the possession of 10 grams or less pm October 2014. Following in 2016, the Maryland General Assembly passed SB 517 which decriminalized paraphernalia and smoking in public.
Maryland's medical program began a year earlier than its decriminalization. In May 2013, Governor O'Mallye signed legislation that established a medical program in Maryland. He then signed HB 881 in 2014, allowing the creation of a medical cannabis infrastructure. Maryland's earlier medical program restricted access and distribution only to medical practitioners. It was not until December 2017 that the state's first few dispensaries were open to the public.
Legalization efforts were extensive in the 2010s, but none has been successful. It was until 2019 that a task force of the Maryland General Assembly, named the Marijuana Legalization Workgroup, began to consider ways to possibly legalize adult use in the state. In April 2022, Governor Larry Hogan included HB 837 in a list of bills that are allowed to take effect without his signature. HB 837 sets basic rules for the adult-use program if voters approve the ballot referendum in the November 2022 election.
AN OVERVIEW OF MARYLAND'S MEDICAL MARKET
When Maryland medical program began in 2017, the first year drew nearly $100 million in sales. 14 growers, 12 processors and 9 dispensaries were awarded licenses that year. In the following year, 2018 saw Maryland having more than 70 medical dispensaries across the state. By September 2019, Maryland had 18 licensed growers, 82 licensed dispensaries and 70,000 registered patients. As of September 2022, the total number of patients was just over 152,000.

Maryland medical cannabis sales reached about $600 million in 2021, according to state regulators. The 2022 MJBiz Factbook projects that MMJ sales will hit between $600 million-$725 million this year. A recreational marijuana industry is expected to be much larger.
However, after years of explosive growth, Maryland's medical market has showed first sign of plateauing. The Maryland medical market endured its first year-over-year decline in January 2022, with sales of $44 million falling 5% from December 2022 and a year ago.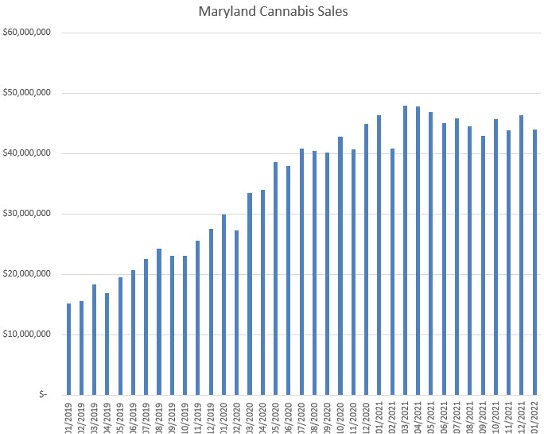 In fact, according to state regulators' data, dispensary sales in September 2022 was at its lowest since 2021. While 2021 sales average about $45 million per month, September 2022's sales dropped to $38 million. Speculators has attributed the slowdown in sales due to inflation, while the market is being oversupplied with decreased demands. Many is hopeful that potential improvements to the MMJ program in Maryland will come after state lawmakers agreed in April to put recreational on the state ballot in November.
IS MARYLAND READY FOR A RECREATIONAL MARKET?
Although Maryland is expecting an overwhelming support of adult-use cannabis for the vote in November, industry officials are concerned that a commercial market might not materialize until 2025.
On top of pending statewide referendum, the Maryland General Assembly will need to agree on a regulatory structure, but lawmakers are reluctant to commit to a firm timetable. Among the preliminary discussions was a "disparity study" to develop a diverse, equitable recreational industry that is diverse, unlike the start of the state's medical industry which was dominated by white-owned businesses. The study is not expected to be finished until the middle of the 2023 legislative session.
Once an adult-use marijuana framework is enacted, regulators will need to establish rules, start the licensing process, and license winners will need time to develop their businesses.
About Canna Brand Solutions
Canna Brand Solutions is an innovative custom packaging supplier and an official CCELL Distributor. We are a wholesale cartridge, battery, and packaging supplier, and more. Our passion to build lasting relationships with our partners motivates us to exceed your expectations, helping you grow your brand in this ever-evolving global industry.
With our deep experience in manufacturing and the cannabis industry, we offer adaptive custom packaging solutions, in-house design, and industry expertise to Cultivators, Extractors, Operators & Retailers.