California was the first state in the United States to legalize medical marijuana in 1996, and in 2016. It became the first state to legalize recreational cannabis use. As the largest cannabis market in the world, California has faced a tumultuous year in 2022. While the state's cannabis industry continues to struggle with a myriad of challenges, there are also some positive developments worth noting.
CALIFORNIA'S CANNABIS HISTORY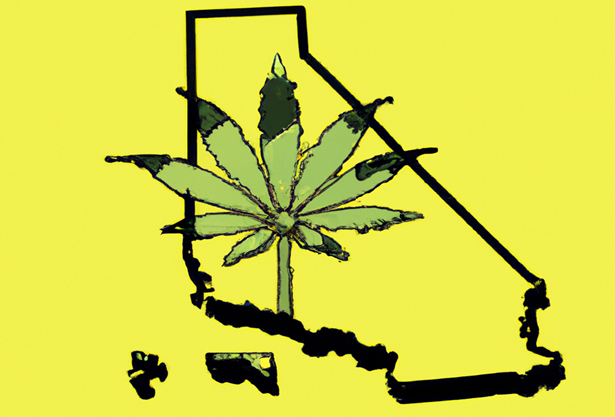 The journey towards legalization of cannabis in California began in the mid-1990s. The state became the first in the nation to legalize medical marijuana. Proposition 215, also known as the Compassionate Use Act, was passed by California voters in 1996 and allowed patients with serious medical conditions to use marijuana for therapeutic purposes with a doctor's recommendation.
Over the next two decades, California continued to lead the nation in cannabis reform. Several cities and counties adopting more lenient policies towards marijuana use. In 2016, California took a major step forward with the passage of Proposition 64, which legalized the recreational use of marijuana for adults 21 years and older. This made California the largest legal cannabis market in the world, and it paved the way for other states to follow suit in legalizing marijuana.
Today, California is home to a thriving cannabis industry. That includes hundreds of businesses ranging from small mom-and-pop shops to large multi-state corporations. With a long history of cannabis legalization and a mature market, California will continue to be a leader in the cannabis industry for years to come.
CALIFORNIA CANNABIS SALES – MARKING A NINTH QUARTER-LOW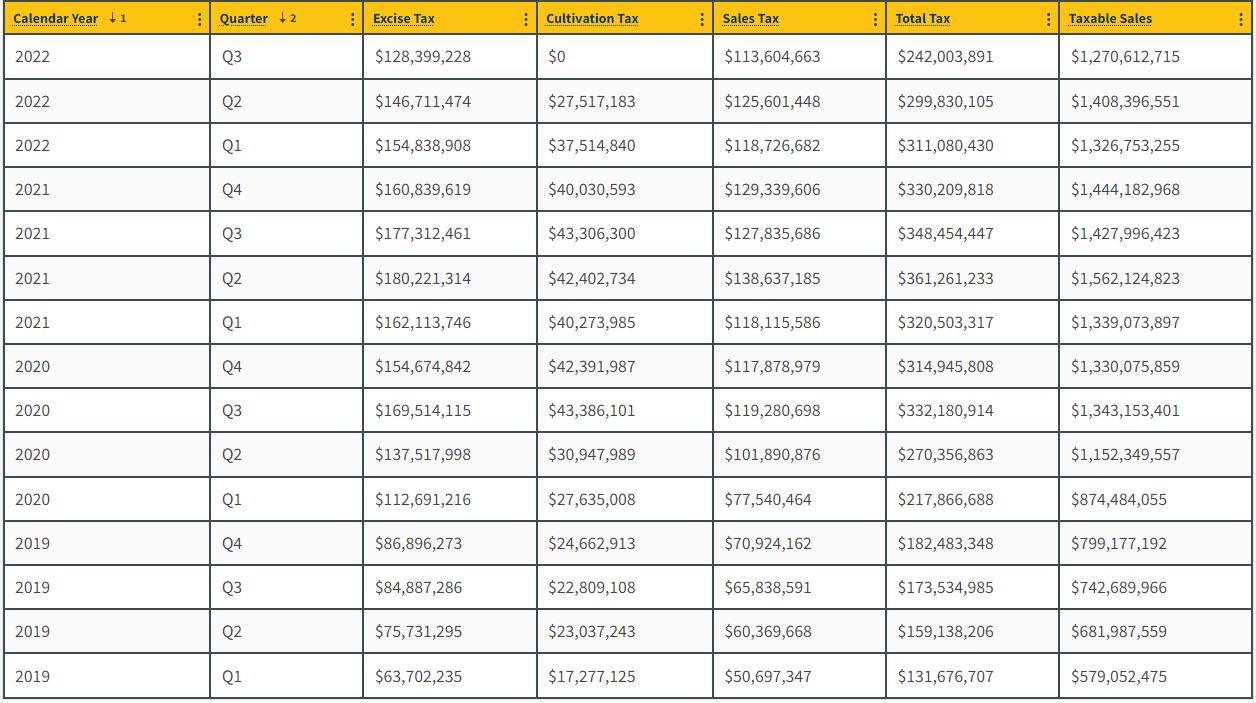 Source: Cannabis Tax Revenue – CDTFA
California's licensed dispensaries reported $1.27 billion in taxable adult-use sales for the third quarter of 2022, according to data released on November 18 from the California Department of Tax and Fee Administration (CDTFA). This marks a nine-quarter low, with sales performance not seen since the second quarter of 2020.
As of November 16, 2022, total cannabis tax revenue from third-quarter returns is $242 million. This includes California's cannabis excise tax, which generated $128.4 million and $113.6 million in sales tax revenue from cannabis businesses. The total reported cannabis tax revenues do not include outstanding returns. They also do not include locally imposed taxes collected by cities and counties.
Previously reported revenue for the second quarter of 2022 returns was revised to $299.8 million. This includes $146.7 million in cannabis excise tax, $27.5 million in cultivation tax, and $125.6 million in sales tax. Revisions to quarterly data are the result of amended and late returns and other tax return adjustments.
Since January 2018, total cannabis tax revenue to date is $4.4 billion, including $2.2 billion in cannabis excise tax, and $1.7 billion in sales tax. That total also includes $500.3 million in cultivation tax.
While some attribute the dip in sales to competition from the illicit market, high taxes, price compression, and compliance standards have also played a role. These issues have been further compounded by local cannabis business opt-outs, which have pushed the state's industry to the brink.
CHALLENGES AND REGULATION UPDATES
One of the biggest challenges facing California's cannabis industry is the competition from the illicit market. Despite legalization, the illegal market continues to thrive in the state. The high taxes levied on legal cannabis, which can add up to as much as 45% of the final retail price. It have made difficult for legal businesses to compete with illegal operations that are not subject to the same taxes.
Source: Legal vs Illicit Cannabis Sales in California 2019-2024 Statista
Another major challenge is compliance standards. California has some of the strictest regulations in the country, making it difficult and expensive for cannabis businesses to operate. The state's track-and-trace system is criticized as overly burdensome and costly.
In July 2022, California implemented a policy change that growers had long pushed for, eliminating the weight-based cannabis cultivation tax. The tax had been $10.08 per dry-weight ounce for flower and $3 per dry-weight ounce for leaves. This change brought much relief to licensed growers. However, how much impact this will have on the overall industry remains to be seen.
On the legislative front, Gov. Gavin Newsom signed 10 bills in September 2022 meant to offset some of the industry's challenges, remove employer penalties for cannabis use, and improve access for patients and consumers. The bills include measures to reduce taxes, streamline the track-and-trace system, and allow for the creation of cannabis cafes.
CALIFORNIA HOPES FOR AN AMSTERDAM-LIKE CAFÉS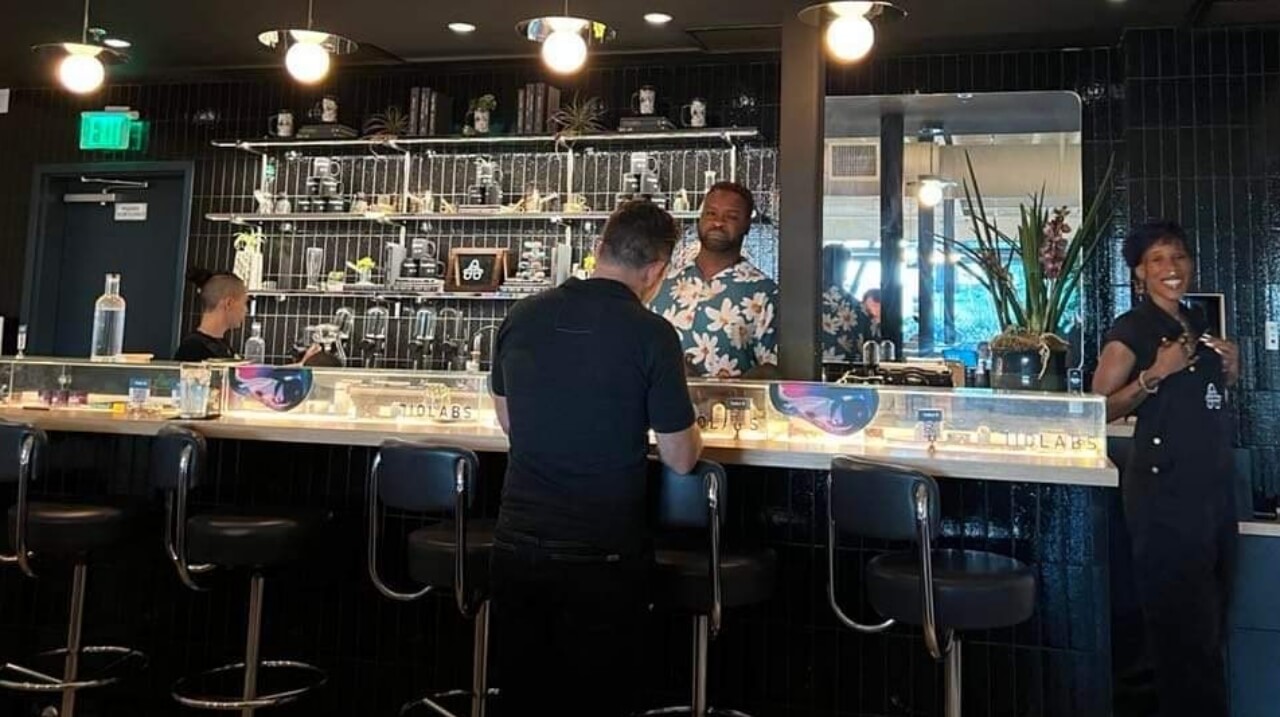 Assemblyman Matt Haney put forward a bill in February 2023 that would legalize the sale of food and nonalcoholic beverages at cannabis retailers and lounges. If passed, Assembly Bill 374 would allow localities and cities to permit the consumption of food and drink at cannabis retailers, which could contribute to the normalization and destigmatization of marijuana use. The bill would also allow cannabis cafes to host live performances and sell tickets to the events. The ability for cannabis retailers and lounges to sell food and nonalcoholic beverages could be a significant development. If passed, this bill could attract more customers to legal cannabis businesses and help them compete with the illegal cannabis industry.
In November 2022, The Department of Cannabis Control (DCC) announced that it has adopted a consolidated regulatory package that streamlines and simplifies the cannabis regulations, eases burdens for licensees, and enhances consumer protections. The changes will make it easier and quicker for business licenses, reducing small operators' burden. The full text of the regulations can be found here.
CONCLUSION
Despite the challenges facing California's cannabis industry, there are also positive developments on the horizon. The competition from the illicit market remains a major issue. But the elimination of the weight-based cultivation tax and the new legislation signed by Gov. Newsom are steps in the right direction. The bill to legalize sale of food and beverages at retailers and lounges could also help to normalize the industry and provide much-needed relief to businesses struggling to stay afloat.
Canna Brand Solutions is an innovative custom packaging supplier and an official CCELL Distributor. We are a wholesale cartridge, battery, and packaging supplier, and more. Our passion to build lasting relationships with our partners motivates us to exceed your expectations, helping you grow your brand in this ever-evolving global industry. With our deep experience in manufacturing and the cannabis industry, we offer adaptive custom packaging solutions, in-house design, and industry expertise to Cultivators, Extractors, Operators & Retailers.