As the cannabis industry continues to gain momentum across the United States, one state that stands out is Oregon. With a rich history of cannabis cultivation and a thriving industry, Oregon is a leader in the cannabis space, and it's no surprise that the state's cannabis industry continues to grow and evolve. In this blog article, we will look at the history, regulations, sales performance, and current state of the cannabis industry in Oregon.
OREGON'S HISTORY IN CANNABIS LEGALIZATION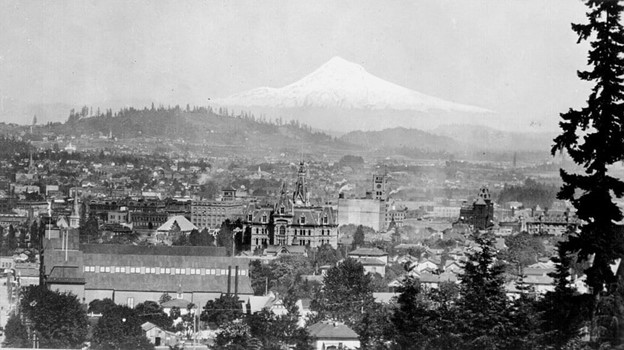 Oregon has a rich history of cannabis legalization and has been at the forefront of the movement since the early days of medical cannabis legalization. In 1998, the state became one of the first in the country to legalize medical cannabis, and since then, it has continued to be a leader in the cannabis space. Oregon was also the first state to decriminalize the possession of small amounts of cannabis
In 2014, the state passed Measure 91, which legalized the recreational use of cannabis for adults 21 and over. This made Oregon one of the first states in the country to fully legalize cannabis and paved the way for the growth and development of the state's cannabis industry.
Since the legalization of recreational cannabis in 2014, the industry has continued to grow and evolve in Oregon. From the rise of craft and specialty products to the growth of the number of cannabis businesses in the state, the cannabis industry in Oregon is thriving and continues to make a significant economic impact on the state. Additionally, the legalization of cannabis in Oregon has had a positive impact on the state's criminal justice system, as the state has seen a decrease in cannabis-related arrests and a shift in resources away from enforcement and towards regulation and education.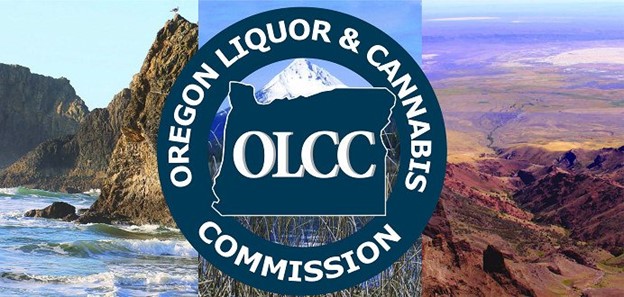 In recent years, Oregon's cannabis industry has been subject to new regulations aimed at ensuring the safety and quality of products, as well as promoting responsible use. These regulations have been implemented by the Oregon Liquor Control Commission (OLCC) and include strict rules for labeling, packaging, testing and distribution of cannabis products. The OLCC also provides oversight for the state's medical cannabis program and ensures that medical cannabis patients have access to safe, effective, and high-quality products.
OREGON CANNABIS SALES – FIRST DECLINE IN 2022
It is important to note that the cannabis industry in Oregon has experienced significant growth in recent years. According to the OLCC, the state's cannabis sales have grown from $67 million in 2016 to over $500 million in 2020. Additionally, the number of cannabis businesses in the state has also increased, with the OLCC issuing over 1,500 cannabis licenses in 2020 alone.
The Beaver State, known for its thriving cannabis industry, recently recorded a dip in its overall cannabis sales. According to the OLCC, licensed retailers in the state recorded just over $995 million in sales in 2022, a 16% decrease from the previous year. This marks the first time that the state's sales did not increase since launching its commercial adult-use retail market more than seven years ago.
The unprecedented downtrend is the result of a market correction following record sales growth during a pandemic boom for the cannabis industry. Oregon's monthly sales averaged more than $99 million from March 2020 to May 2021—during the boom—representing a 49% increase from the nearly $67 million monthly average from January 2019 to February 2020 (a pre-COVID baseline).
Now in the post-pandemic correction, Oregon's combined adult-use and medical cannabis sales averaged nearly $83 million per month in 2022.
| | | | |
| --- | --- | --- | --- |
| Year | Adult-Use | Medical | Combined |
| 2022 | $932,449,072.26 | $62,716,692.09 | $995,165,764.35 |
| 2021 | $1,084,419,088.65 | $99,671,207.50 | $1,184,090,296.15 |
| 2020 | $1,001,772,323.73 | $109,255,234.20 | $1,111,027,557.93 |
| 2019 | $726,003,565.94 | $69,130,251.65 | $795,133,817.59 |
| 2018 | $584,635,176.55 | $63,757,258.58 | $648,392,435.13 |
| 2017 | $423,949,620.66 | $69,881,980.62 | $493,831,601.28 |
| Total | $4,753,228,847.79 | $474,412,624.64 | $5,227,641,472.43 |
Source: Cannabis Business Times
REGULATION AND THE CROWDED MARKET
The dip in sales came at a time when the state implemented a cannabis licensing moratorium in response to a crowded marketplace. The moratorium, which was introduced after the passing of House Bill 4016 in March 2022, does not apply to licensing renewals or changes in location or ownership for current licensees.
As of Dec. 7, 2022, the state had nearly 2,900 active cannabis business licenses, including 833 adult-use retailers, which equates to 19.6 dispensaries per 100,000 people – the highest rate among Western states in the continental U.S. In addition to the retailers, Oregon's cannabis footprint also includes 1,422 producers, 279 wholesalers, and 333 processors with active licenses.
Oregon has licensed far more cannabis retailers per capita than comparable states (about three times Washington's number, for instance). That means consumers have a lot of choice and retailers are locked in stiff competition.

FALLING PRICES OF OREGON'S CANNABIS
Despite the moratorium, the average sales figures per retailer have trended down in recent months. The average sales per dispensary decreased from nearly $163,000 in March 2022 to roughly $104,000 in November 2022 – the lowest average since April 2019. This dip can be largely attributed to the falling flower prices, which were at an all-time low of $116 per ounce on average at retail in November and December, a 15% decrease from the beginning of 2022 and a 28% decrease compared to the October 2020 pandemic peak of $160 per ounce. The average wholesale flower prices also dipped to an all-time low of $550 per pound in December, a 42% decrease from the beginning of the year.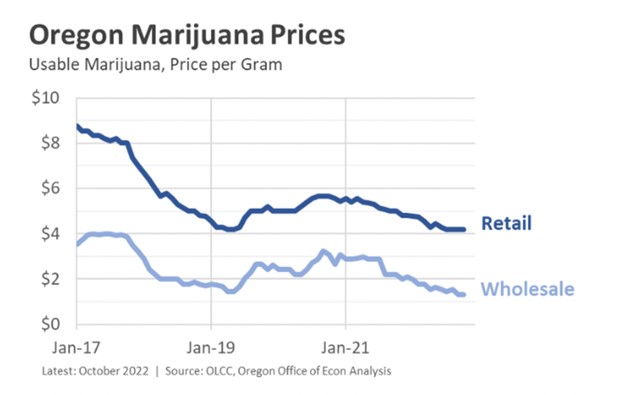 Despite the falling flower prices, some product categories have remained relatively stable. For example, the median price for extracts/concentrates was $16 per gram in December, a 4% decrease compared to the beginning of the year. Flower products still made up 50.5% of the overall sales in 2022, amounting to roughly $502 million, while the concentrate/extract market share grew to 25%. Edibles/tinctures accounted for 13% of the market in 2022.
Here's a rundown of market share by product category over the past six years:
| | | | |
| --- | --- | --- | --- |
| Year | Flower | Concentrate/Extract | Edible/Tincture |
| 2022 | 50.5% | 24.9% | 13.2% |
| 2021 | 54.7% | 24.6% | 11.1% |
| 2020 | 58.0% | 25.3% | 9.8% |
| 2019 | 53.7% | 26.4% | 10.2% |
| 2018 | 54.0% | 29.3% | 10.4% |
| 2017 | 65.3% | 24.1% | 8.7% |
CONCLUSION
What caused the slowdown in sales in Oregon's cannabis market is likely due to a combination of factors, including falling prices, increased competition, changing consumer preferences, and the impact of the COVID-19 pandemic.
The cannabis industry in Oregon faced challenges in 2022. Nevertheless, it remains a strong player in the market and continues to innovate and adapt to the changing landscape. The state's diverse product offerings, high number of active licenses, and continued growth in certain product categories bode well for its future success.
Canna Brand Solutions is an innovative custom packaging supplier and an official CCELL Distributor. We are a wholesale cartridge, battery, and packaging supplier, and more. Our passion to build lasting relationships with our partners motivates us to exceed your expectations, helping you grow your brand in this ever-evolving global industry. With our deep experience in manufacturing and the cannabis industry, we offer adaptive custom packaging solutions, in-house design, and industry expertise to Cultivators, Extractors, Operators & Retailers.