Washington's cannabis industry has experienced significant growth since the state legalized recreational cannabis in 2012. Over the past few years, the industry has continued to evolve and mature, facing new challenges and opportunities as it becomes more established. In this article, we will take a closer look at the current state of Washington cannabis industry including history, sales performance, and latest regulatory news.
WASHINGTON'S HISTORY OF CANNABIS AND THE I-502 MARKET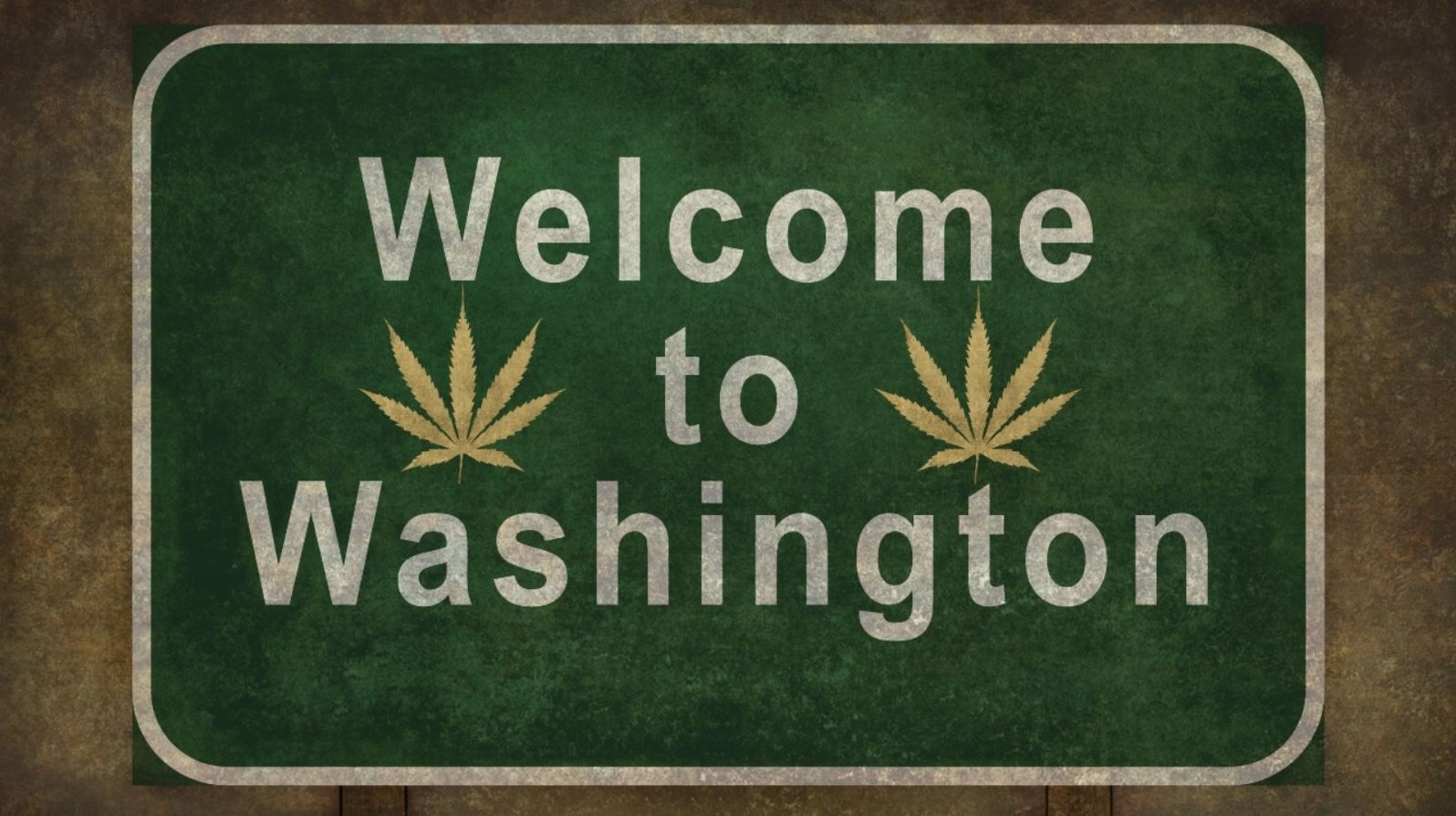 Washington has had a long history with cannabis. Medical cannabis was legalized in Washington in 1998 with the passing of Initiative 692, which allowed patients with certain conditions to use cannabis with a doctor's recommendation. However, it wasn't until 2012 that the state legalized recreational cannabis for adults 21 and older with the passing of Initiative 502 (I-502).
I-502 created a system for regulating and taxing cannabis, which included licensing for growers, processors, and retailers. This allowed for the creation of a legal market for cannabis, which has since grown to be a significant contributor to the state's economy. The initiative also established strict regulations for products and packaging, as well as testing and labeling requirements, to ensure the safety and quality of the products.
In terms of regulations, the Washington State Liquor and Cannabis Board (WSLCB) has been working to ensure that the cannabis industry operates in a safe and responsible manner. The board has been enforcing the state's regulations to clamp down on illegal cannabis operations and to protect consumers. Additionally, the WSLCB has been working to update the state's regulations to keep pace with the industry's growth, including updating product testing and labeling requirements, as well as packaging and labeling standards.
WA POT SALES DECLINE FOR THE FIRST TIME SINCE LEGALIZATION
December 2022 marked a decade since Washington state became one of the first two states in the U.S. to legalize marijuana. Since then, sales have grown exponentially – from about $180 million in 2015 to over $1.3 billion as of July 2022.
According to Washington's Liquor and Cannabis Control Board's report, the state collected $515.2 million in legal marijuana income and license fees in fiscal year 2022, including $4.1 million in cannabis license fees. The report also shows that the marijuana revenues were $251.2 million more than that of liquor, and that the marijuana tax income to the state for fiscal year 2022 of $515.2 million grew by slightly more than $47 million from the previous fiscal year.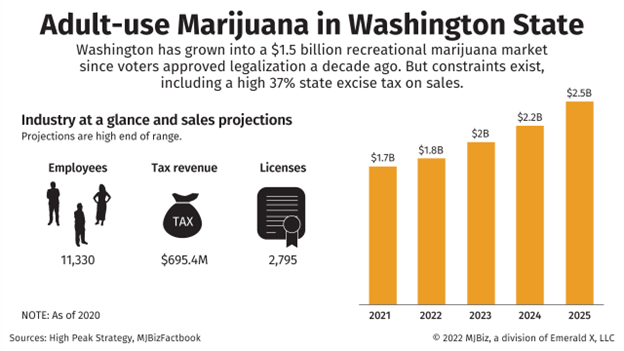 Source: Mjbizdaily
Washington's cannabis industry sales declined after surging during the pandemic and the initial years of legalization. The industry's growth slowed for the first time in the 2022 fiscal year compared to previous years. Retail sales recorded 8% decline over 2021 — a drop of about $120 million in revenue. The contraction is part of a national trend in declining sales recorded since July 2021, according to a recently released report from cannabis data firm Headset.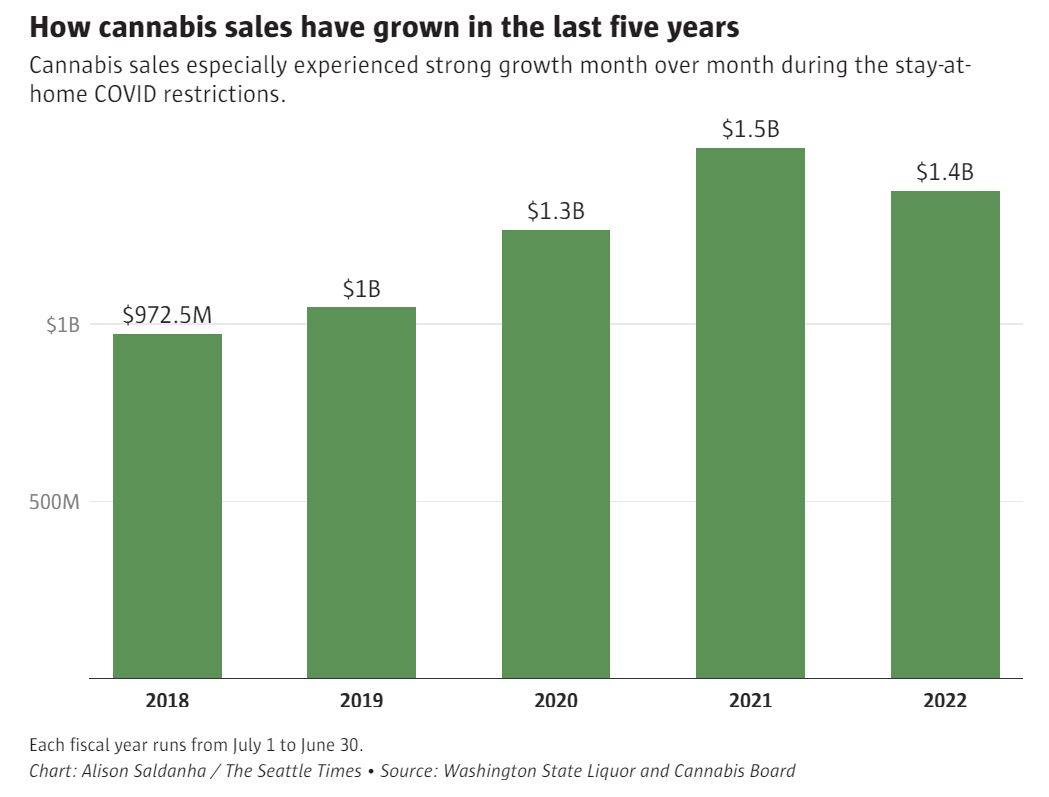 10 YEARS SINCE LEGALIZATION, WA STILL FACES HEADWINDS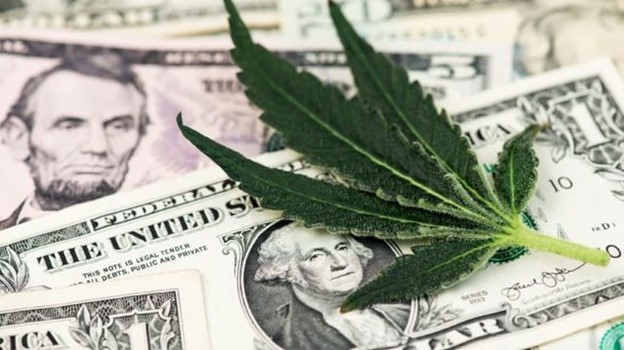 Although Washington was at the forefront of legalizing cannabis, its 37% excise tax rate is by far the largest such tax in the U.S. The average tax rate – including the excise tax and state and local sales taxes – totals 46.2%, which pushes some consumers to the illicit market. This has led to calls from industry leaders and lawmakers to lower the tax rate to help promote the growth of the legal market and to reduce the incentive for consumers to purchase from the black market.
Like other long-running adult-use cannabis markets such as Oregon and Colorado, Washington state growers are experiencing low wholesale flower prices as cultivators continue to flood the market. In 2022, cultivators had a strong growing season, with little to no adverse weather events, which led to a bumper harvest. Adding that to an already oversupplied market, and prices are sure to fall even lower.
Another long-standing complaint among industry officials is the lack of access to capital because, by law, cannabis business entrepreneurs must reside in Washington state for at least six months before obtaining a license. The lack of access to capital is a major obstacle to social equity gaining more traction in the Washington state market.
STRENGTHENING SOCIAL EQUITY
According to data self-reported to the LCB in 2020, less than 20% of marijuana retail owners identified as minorities. That included 7% Asian, 4% multiracial, 3% Black, 2% Hispanic and 1% other.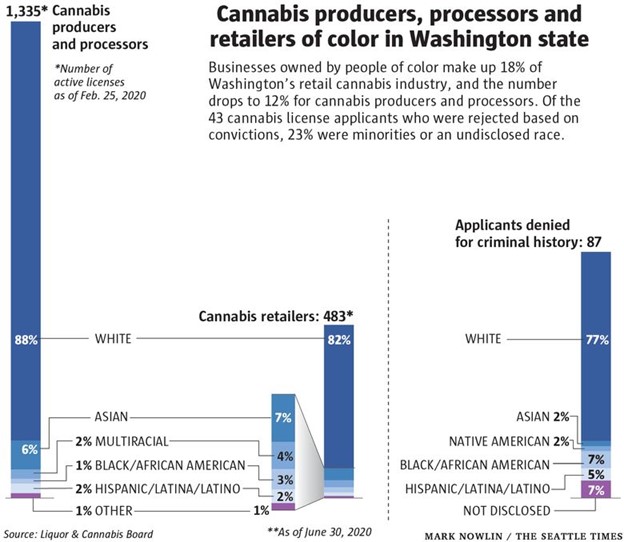 When Washington legalized the recreational use of cannabis in 2012, social equity was not a priority in its regulation framework. It became so only in March 2020 when Gov. Jay Inslee signed House Bill 2870. This created the Marijuana Social Equity Program under LCB to streamline retail licenses to people in communities disproportionately impacted by the enforcement of cannabis prohibition. In 2021, the program was expanded through HB 1443.
In January 2023, The Washington State Liquor and Cannabis Board (LCB) has officially announced that it will open social equity applications on March 1. Only 44 licenses that were previously "forfeited, canceled, revoked, or never issued" are being made available to those who qualify. Applicants must have been living in a disproportionately impacted area (DIA), which is defined as having a high poverty rate, participation in "income-based federal programs," unemployment, and rate of convictions, between 1980 to 2010.
The LCB recently posted maps online indicating Disproportionately Impacted Areas. The interactive maps are an essential tool for identifying whether an applicant meets one of the above three criteria to qualify for the program.
IN CONCLUSION…
Washington's cannabis industry continues to grow and evolve, facing new challenges and opportunities as it becomes more established. Despite the challenges, the legal cannabis market in the state remains strong, and the state's regulators continue to work to ensure that the industry operates in a safe and responsible manner. With the continued growth of the industry and the increasing diversity of products and services being offered, the future looks bright for the legal cannabis market in Washington.
Canna Brand Solutions is an innovative custom packaging supplier and an official CCELL Distributor. We are a wholesale cartridge, battery, and packaging supplier, and more. Our passion to build lasting relationships with our partners motivates us to exceed your expectations, helping you grow your brand in this ever-evolving global industry. With our deep experience in manufacturing and the cannabis industry, we offer adaptive custom packaging solutions, in-house design, and industry expertise to Cultivators, Extractors, Operators & Retailers.