Michigan's cannabis industry has seen significant growth since the state legalized recreational use in 2018. In 2022, the industry continues to thrive with new regulations, impressive sales performance, and a bright future on the horizon.
Michigan Cannabis Sales Exceeded Expectations In 2022
In terms of sales performance, the industry has exceeded expectations. According to the Michigan Marijuana Regulatory Agency, cannabis sales in the state reached an all-time high of $2.2 billion in 2022. With an average of $2,622,000 sales per day, cannabis sales in Michigan have surpassed the sales of alcohol and tobacco. This growth will continue as more dispensaries open and the market matures.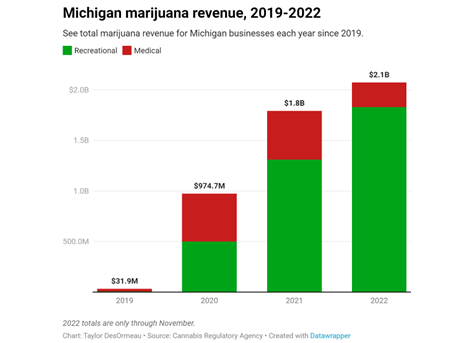 Source: Cannabis Regulatory Agency; Chart: Taylor Des0meau
Moreover, the industry has also created jobs and economic opportunity in the state. With more dispensaries and cultivation facilities opening, there has been a significant increase in employment opportunities in the cannabis industry. The Michigan cannabis industry has created over 25,000 jobs in 2022. It is expected to create more than 32,000 jobs by 2027, with an average salary of $58,000 per year. This has helped to boost the economy and provide a much-needed boost to the state's workforce.
The future of Michigan's cannabis industry is bright. According to a report by Arcview Market Research, the legal cannabis market in the U.S. is expected to reach $41.3 billion by 2027. Michigan's cannabis industry is well-positioned to take advantage of this growth and continue to provide economic opportunities for the state and its residents.
Detroit Finally Kicked-Off Recreational Sales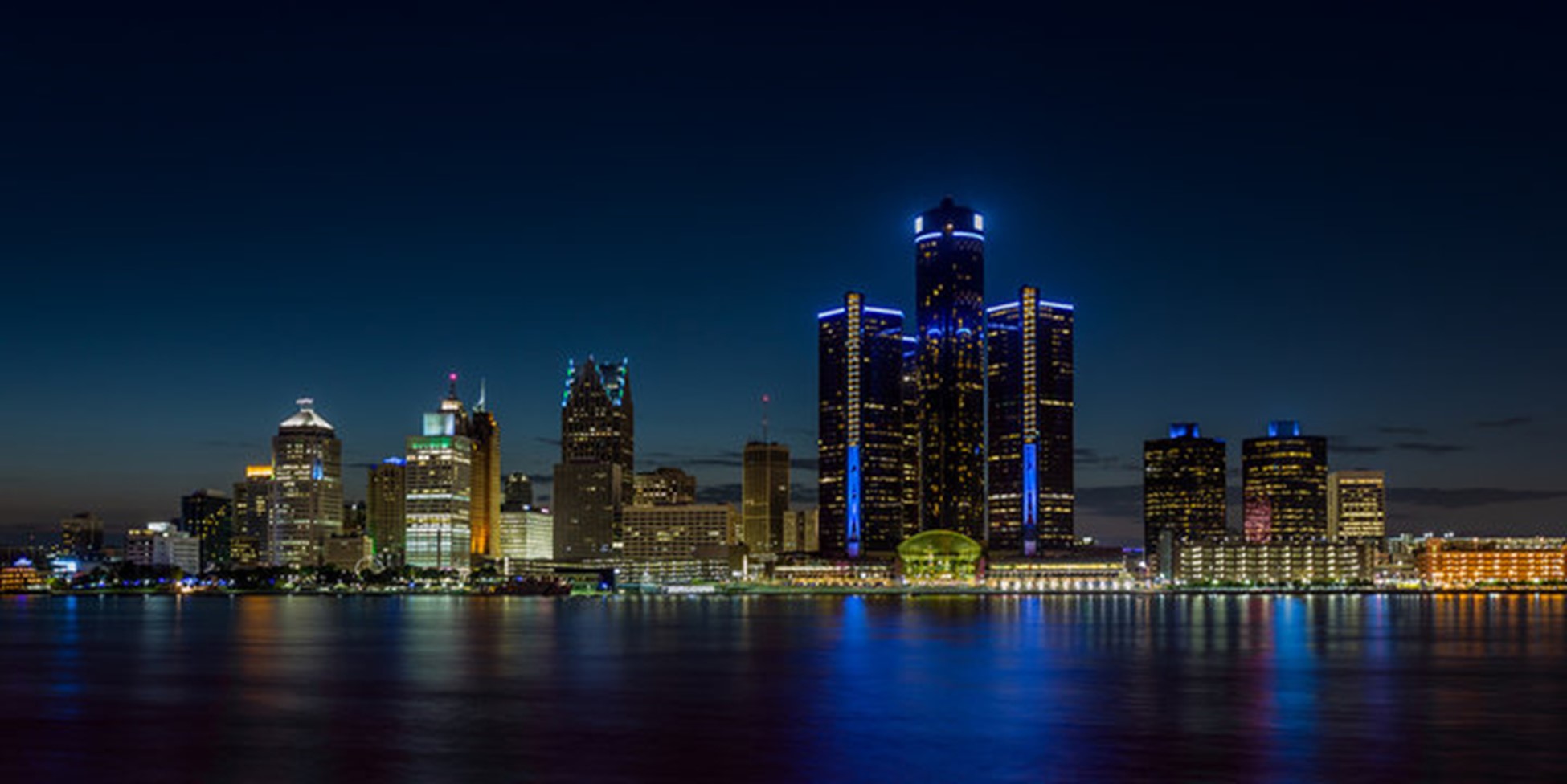 Recreational cannabis sales kicked off in Detroit on January 4, 2023. Two medical marijuana dispensaries – House of Dank and DaCut were ready to serve adult-use customers.
Michigan voters approved adult-use cannabis in 2018, and sales launched in the rest of the state in 2019. However, Detroit regulators only issued the first round of adult-use retail licenses until late November as the city's original legalization ordinance sparked a series of legal proceedings that forced lawmakers to rewrite it. Detroit regulators have issued 33 retail licenses. Of which, 20 were social equity applicants and 13 were non-social equity applicants. Detroit issued its first recreational cultivator's license in May 2022 to Doghouse Farms.
Detroit will offer two more application rounds. The next will begin at the end of January 2023.
New Regulations: Mandatory Lab Testing & Seed-To-Sale Tracking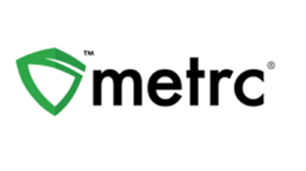 Metrc is Michigan's statewide seed-to-sale marijuana tracking system that uses serialized tags attached to every plant — and labels attached to wholesale packages — to track marijuana inventory. Each tag is attached to a plant to facilitate tracking through different stages of growth, as well as the drying and curing processes, and eventual retail sale.
One of the most notable changes in the industry for 2022 has been the implementation of new regulations. The state has implemented strict rules to ensure the safety and quality of cannabis products. This include mandatory lab testing and seed-to-sale tracking. These regulations have helped to improve the overall quality of cannabis products and provide consumers with a safer experience. According to the Michigan Marijuana Regulatory Agency, the number of licensed dispensaries in the state rose from around 200 in 2019 to over 550 in 2022. More expected to open in the coming years.
Michigan Cannabis Prices: Race to The Bottom?
The continued free fall of retail prices in Michigan might be good news for customers, but bad for business. Cannabis cultivators across the United States are reporting this year's fall harvest (croptober) produced a stellar crop. Thanks to favorable growing conditions and little to no adverse weather events.
According to the Michigan Cannabis Regulatory Agency the state's average price of recreational marijuana dropped to $95.12 per oz. in November. It is a 50% decrease from 2021' price of $191 per ounce.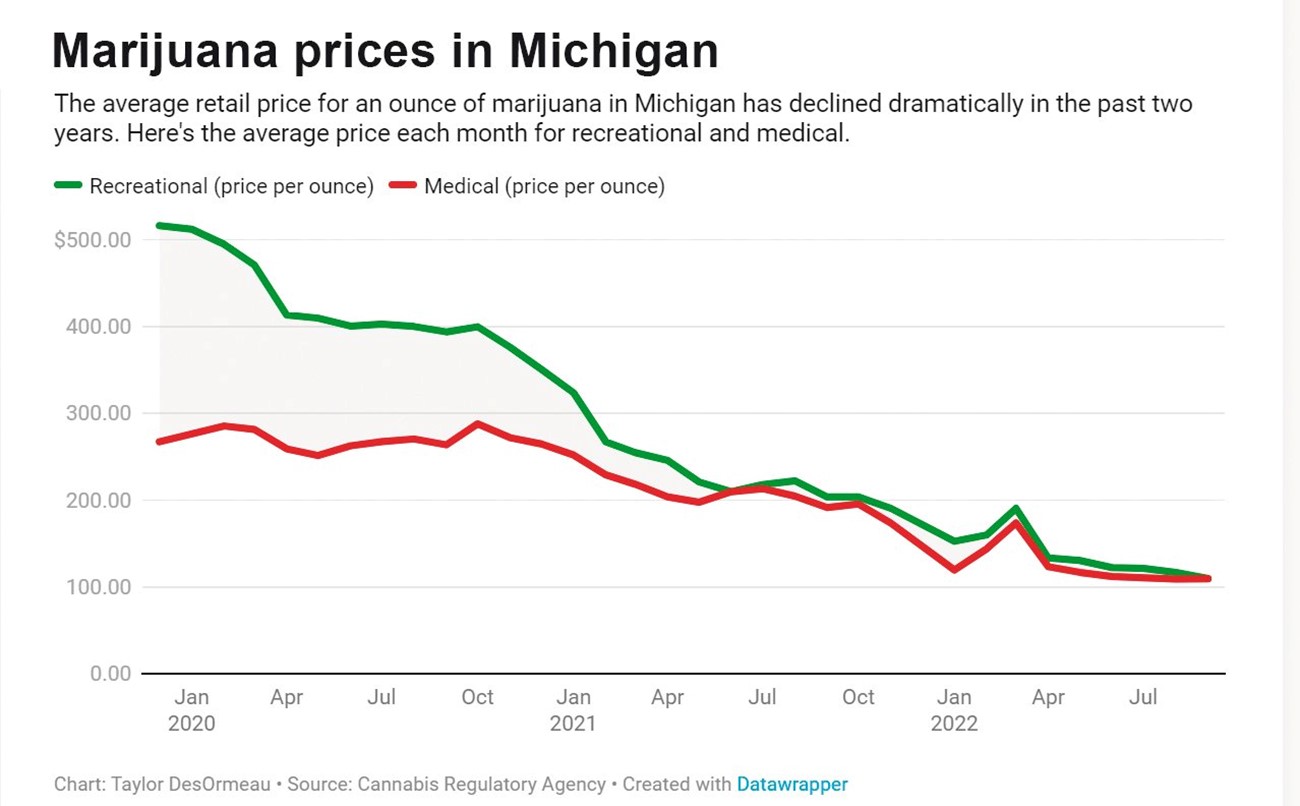 Source: Michigan's Cannabis Regulatory Agency
One reason is that large corporations with even bigger licenses pushing out warehouses full of plants that saturate the market. It has created much discourse about growing licenses, who should receive those licenses and the future of cannabis in Michigan.
While 2022 has been a good growing year, many plants being harvested for such low prices might lead some outdoor growers to scale back their production in 2023. Michigan's weed glut is going to reshape the industry in the coming months. Struggling businesses will likely either collapse or acquired by bigger, better financed competitors.
Stay tuned of our Part Trois on Michigan!
Canna Brand Solutions is an innovative custom packaging supplier and an official CCELL Distributor. We are a wholesale cartridge, battery, and packaging supplier, and more. Our passion to build lasting relationships with our partners motivates us to exceed your expectations, helping you grow your brand in this ever-evolving global industry.
With our deep experience in manufacturing and the cannabis industry, we offer adaptive custom packaging solutions, in-house design, and industry expertise to Cultivators, Extractors, Operators & Retailers.