Nevada has come a long way since legalizing recreational cannabis sales on July 1, 2017. The industry has grown and matured over the past five years, bringing in significant tax revenue for the state. However, the industry still faces challenges, both from economic factors and regulatory limitations. In this article, we'll take a look at the history of cannabis legalization in Nevada, the latest statistics on sales performance, and the challenges facing the industry today.
NEVADA'S CANNABIS HISTORY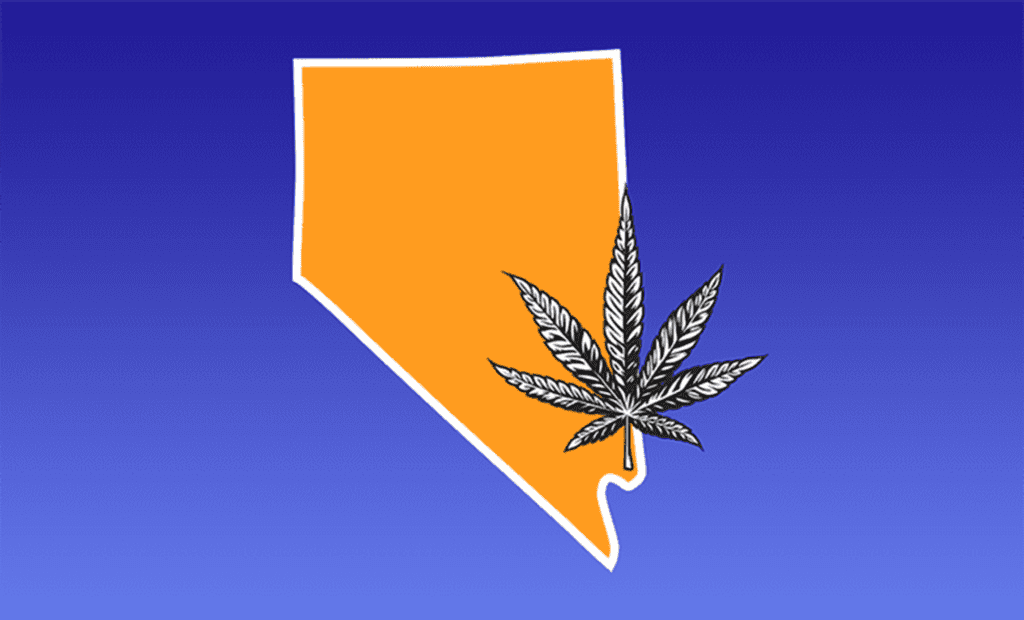 Nevada's journey towards legalizing cannabis began in November 2000 when Nevada voters approved Question 9 to allow the use of medical marijuana. However, it wasn't until 2013 that the state passed legislation to regulate the cultivation, distribution, and use of medical marijuana.
In 2016, Nevada voters approved Question 2, which legalized the recreational use of cannabis for adults aged 21 and over. The law took effect on January 1, 2017, but it wasn't until six months later, on July 1, 2017, that the first legal recreational cannabis sales were made in the state.
As of January 2023, Nevada had 100 retail cannabis outlets, including one stand-alone MMJ dispensary, 33 adult-use stores, and 66 co-located medical and recreational marijuana retailers. Furthermore, Nevada issued the first set of licenses for marijuana consumption lounges in late 2022, and the CCB expects these lounges to open on a rolling basis over the next year, with the first likely to open by summer 2023.  Assembly Bill No. 341 allows dispensaries to apply for on-site consumption licenses and independent establishments to open pot bars or lounges. It also legalizes smoking, consumption of single-serve THC-infused drinks and edibles, and live entertainment on these licensed venues.
NEVADA TAKES A HIT WITH DECLINING SALES
Since the first year of legal recreational sales, the cannabis industry in Nevada has experienced steady growth. In the first year, dispensaries sold nearly $530 million in product and brought in close to $70 million in excise tax revenue to the state. By fiscal year 2021, cannabis businesses hit a record high of $1 billion in sales, which brought in almost $158 million in excise tax revenue.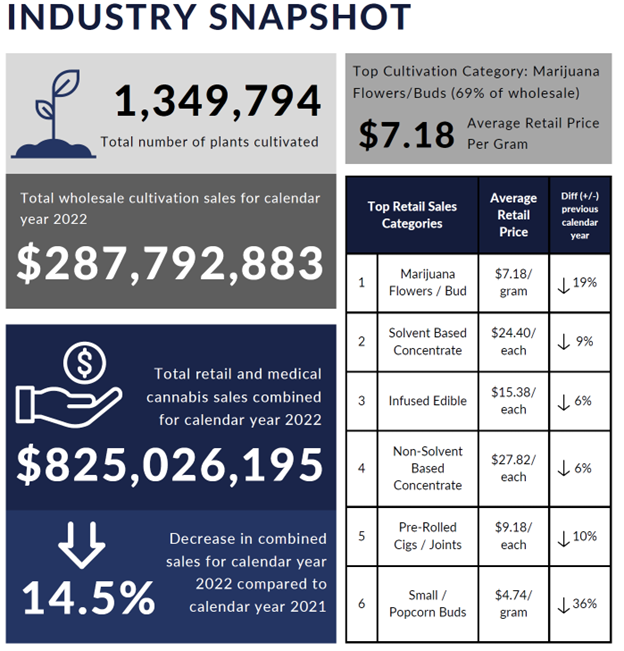 Source: CCB – Industry Snapshot (Jan 1st, 2022 – Dec 31st, 2022)
However, the past year has been challenging for the industry. Nevada's cannabis industry has hit a rough patch with declining sales and economic challenges unique to the industry. The Nevada Cannabis Compliance Board (CCB) report shows that marijuana consumers spent $965.1 million on adult-use and medical cannabis between July 1, 2021, and June 30, 2022, a 3.8% decline from the previous year period. This is the first time that cannabis sales in Nevada have declined since legalizing cannabis for adult use.
The decline is consistent with sales trends in other states with mature cannabis markets, and it can be attributed, at least in part, to the after-effects of the COVID-19 pandemic. The report was prepared for state legislators in January, and the sales figures were previously released in September 2022.
The average retail price of cannabis bud was $7.18 per gram during the CCB's 2022 fiscal year, a 19% decline from the year before, according to the report. Average retail prices also fell on an annual basis for other cannabis product categories, including Solvent-based concentrates, Infused edibles, Non-solvent-based concentrates, Pre-rolls, and Small/popcorn buds.
CHALLENGES FACING NEVADA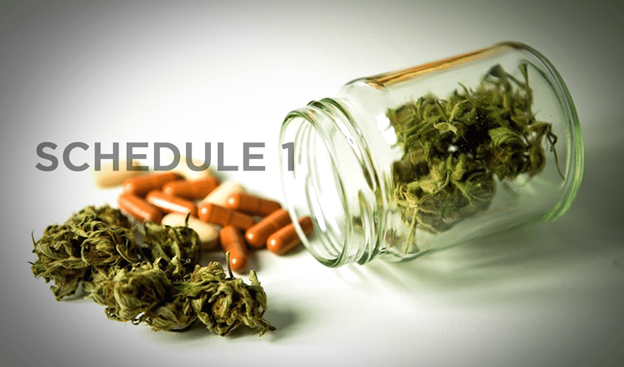 One of the biggest challenges facing the Nevada cannabis industry is the fact that cannabis is still federally illegal and classified as a Schedule 1 drug. This limits access to traditional banking and lending, intellectual property protections, and bankruptcy for cannabis businesses.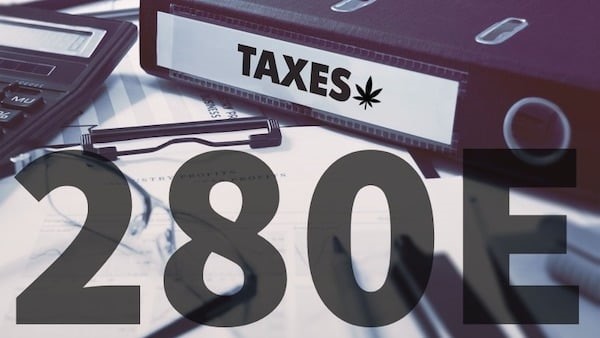 In addition, IRS Code Section 280E prohibits cannabis businesses from deducting ordinary business expenses, resulting in an effective tax rate of 60-70%. Interstate commerce is also prohibited, meaning all cannabis sold in Nevada dispensaries must be grown in Nevada. This requires a careful calibration of supply and demand to ensure that the amount of cannabis produced is not too much or too little based on consumer demand within the state.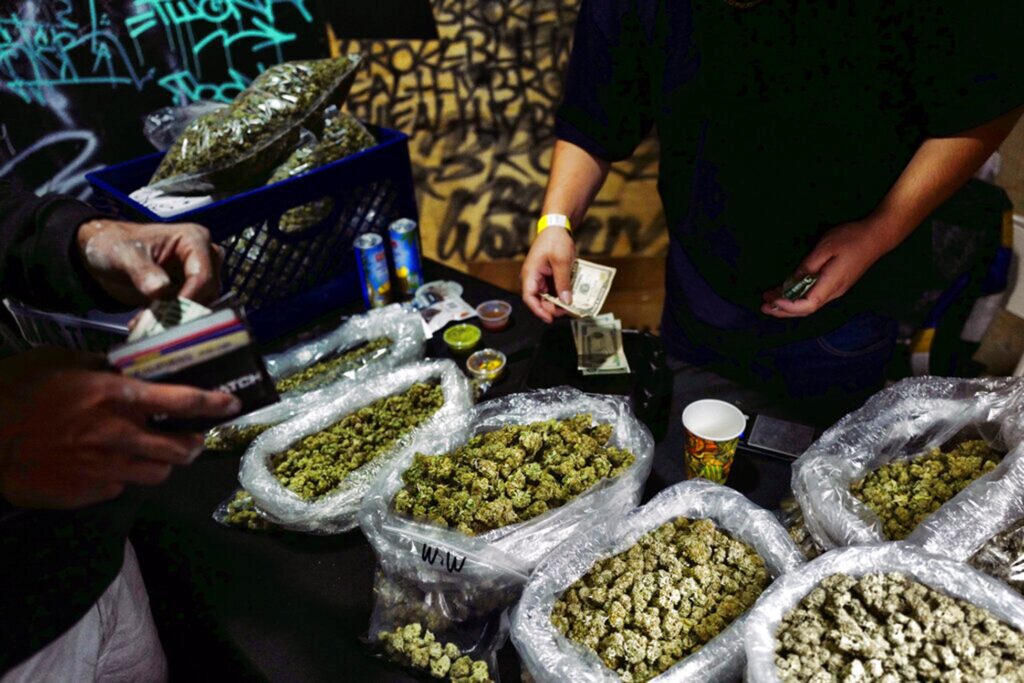 Credit: AP
Another challenge facing the industry is the threat of unlicensed operators who are not subject to the same taxes or costs of regulatory compliance and testing as the licensed market. This results in confusion for tourists and customers who may unknowingly purchase untested and potentially dangerous products from unlicensed businesses.
LATEST REGULATORY NEWS AND CHALLENGES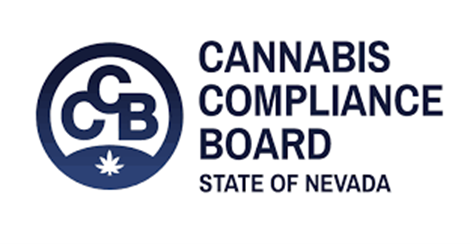 The Cannabis Compliance Board (CCB) is responsible for regulating the licensed cannabis industry in Nevada. However, the CCB does not have the jurisdiction or the resources to shut down every illicit cannabis business. Law enforcement, the Attorney General's office, and local governments need to work together to shut down these businesses and pursue civil penalties.
Licensees in the industry also face significant costs due to regulation, such as application fees, renewals, background checks for all employees, significant training requirements, oversight billing, and six-figure disciplinary violations. While the CCB projected $293,000 in revenue from "time and effort" billing during the 2022 fiscal year, they collected $2.5 million from the industry, which was over eight times its budget. Similarly, the CCB projected $116,000 in revenue from civil penalties during the 2020 fiscal year, but collected $1.9 million from the industry, which was more than 16 times its budget.
CONCLUSION
The legalized cannabis industry has been an essential component of building a durable tax base, diversifying the economy, and providing valuable jobs for Nevada. However, cannabis is facing challenges in the current year, including skyrocketing costs and decreased sales. The industry's regulator has taken an aggressive approach to fines, fees, and enforcement, but the flourishing unlicensed market remains the real threat to public safety. If the state wants to preserve its cannabis tax base, reform is necessary.
Canna Brand Solutions is an innovative custom packaging supplier and an official CCELL Distributor. We are a wholesale cartridge, battery, and packaging supplier, and more. Our passion to build lasting relationships with our partners motivates us to exceed your expectations, helping you grow your brand in this ever-evolving global industry. With our deep experience in manufacturing and the cannabis industry, we offer adaptive custom packaging solutions, in-house design, and industry expertise to Cultivators, Extractors, Operators & Retailers.