The state of Arizona witnesses the arrival of an enterprising market in 2021 since its legalization of recreational cannabis. The Grand Canyon State was second only to California for retail sales: Sales soared to $1.6 billion that year.
While retail sales in Arizona have grown exponentially, the state's cannabis industry still must overcome barriers that include limited trade and financing restrictions.
History of Arizona cannabis legalization – It began with 200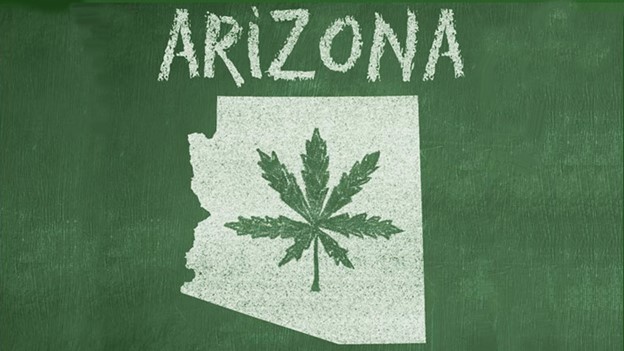 Arizona's cannabis legislation history began in 1996 with Proposition 200, also known as the Drug Medicalization, Prevention, and Control Act. The initiative sought to legalize medical cannabis for terminally ill patients but was overturned by state legislators. This first attempt to legalize medical use failed due to terminology. It used the word "prescribe" instead of "recommend", which conflicted with the federal law banning cannabis prescriptions.
The Grand Canyon State's second attempt for medical legalization was in 2002 with Proposition 203 but it failed again with 42.7% of the vote. A modified Proposition 203 made a comeback in November 2010 and was included in the November general ballot. This initiative passed by a slim margin and got 50.13% of the vote. It was a remarkable win: Opposition from Governor Jan Brewer, Attorney General Terry Goddard, all the state's sheriffs and county prosecutors, and many other state politicians.
In 2011, following the legalization of medical cannabis, Arizona state's Governor and Attorney General contested some of Prop. 203's provisions in the federal court seeking for nullification. Fortunately, a federal judge dismissed the case in 2012 and Prop. 203 went through.
It took two tries to legalize adult-use in Arizona. The first was Proposition 205 that got put on the November 2016 ballot. The proposition failed with a 48.7% vote and was opposed by a massive campaign led by then Governor Doug Ducey with participation of the likes of contributors such as the Arizona Chamber of Commerce and Industry.
Three years after the first attempt, Proposition 207 was championed by the Arizona Cannabis Chamber of Commerce and the Arizona Dispensaries Association. The proposition was qualified for the 2020 ballot by the way of the Smart and Safe Arizona Act. On November 3, 2020, recreational use was legalized through the passing of the act with 60.03% of the vote. Possession and cultivation of cannabis became legal on November 30, 2020. State-licensed sales of recreational cannabis began on January 22, 2021.
Cannabis scores big on Arizona sales and tax
Arizona voted to legalize adult-use cannabis in November 2020 and launched its legal market in January 2021, making it the quickest state at the time to move from voter approval to a fully-fledged recreational marketplace.
Arizona cannabis retailers sold $1.6 billion worth of cannabis in 2021, putting the state second only to California as the country's largest legal cannabis marketplace.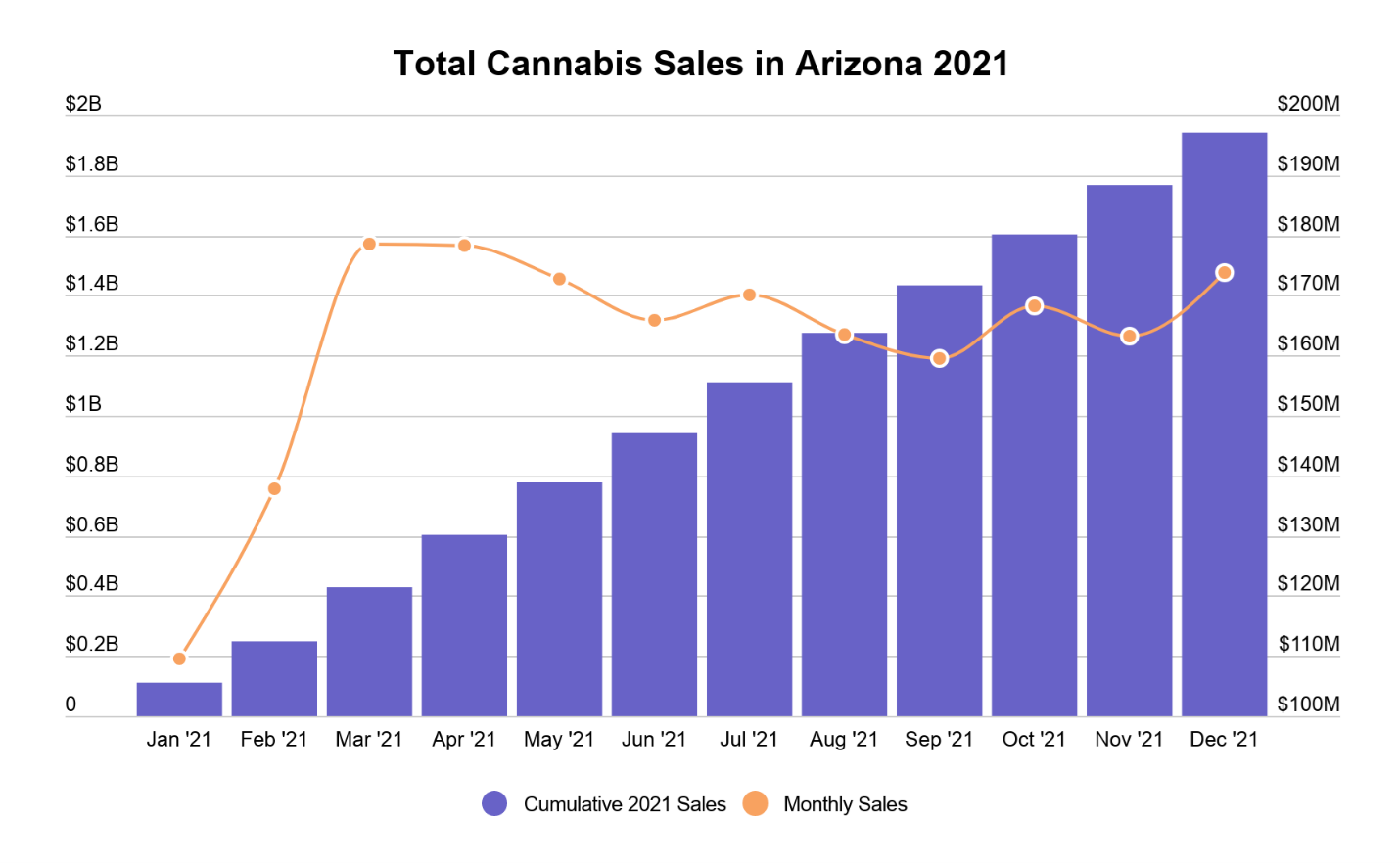 Source: Headset.io – Total Cannabis Sales in Arizona 2021
According to the Arizona Department of Revenue, the state has earned $221.3 million in taxes. On top of that, Arizona's sales in 2022 are on track to eclipse 2021, with $196.4 million in taxes generated in the first nine months of the year. That is an average of $22 million per month in cannabis excise taxes for the year 2022. Adult use sales have risen from $407.3 million in 2021 (through September 2021) to $638.8 million in 2022. Total cannabis sales, excluding sales taxes, are up 6.3% for the YTD period ending September of each year.
Source: BDSA / New Cannabis Ventures
In addition, the AZ Dept. of Revenue reports that its overall tax collections from cannabis sales are up 23.5% for the YTD through the end of Oct. for each year. This means that two years after legislation through Prop 207 in November 2020, the sales of adult-use marijuana have skyrocketed from nothing to $638.8 million, the single largest category.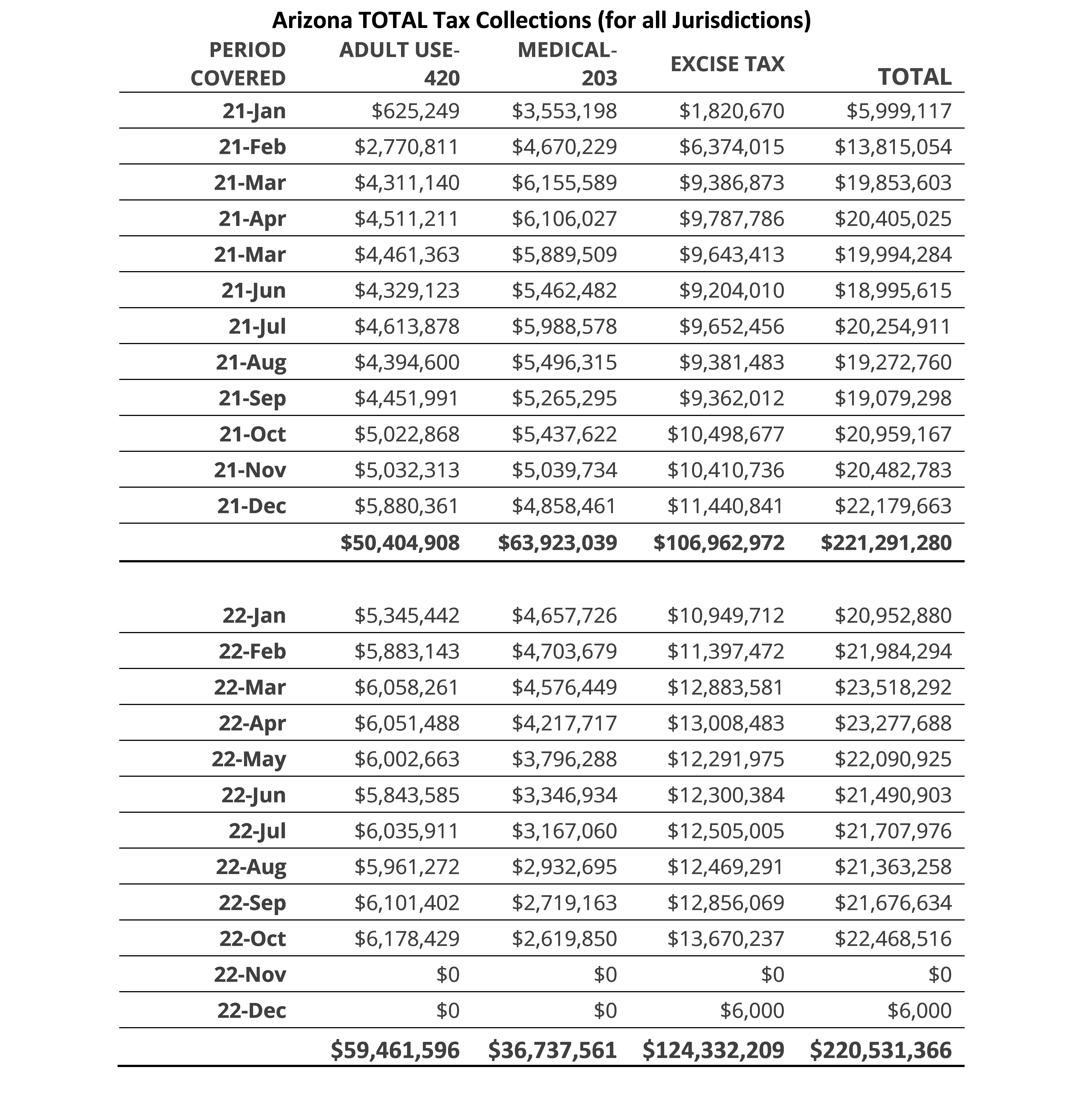 Source: Arizona Department of Revenue – Marijuana Tax collection
September 2021 was the last time medical sales were larger than recreational. That month, the Arizona Department of Revenue reported $63.4 million in medical sales compared to $58.5 million on the recreational side—but every month's reporting since then has shown the programs going opposite directions. This is a direct result of the adult use legalization in Arizona a year ago.
Arizona still has rooms to catch up
Arizona's retail cannabis sales are strong. However, the harvest is far from being rival to the traditional 5 C's: cattle, cotton, copper, citrus and climate (AKA Tourism). According to experts, cannabis production still lags far behind other states. Arizona's climate makes it difficult to grow cannabis. While greenhouses can help address that issue, Arizona would need to see a much larger expansion in agricultural production for cannabis to compete with the other 5 Cs.
The industry must first overcome statewide barriers to growth, including limited trade and funding restrictions on a crop that is still illegal at the federal level. Current regulations restrict small businesses to deduct expenses and find banks to work with. This means some operators are unable to take credit card purchases. In some cases, could not place cash in checking accounts.
Despite all the current hurdles, Arizona has been a pioneering purple state in terms of cannabis regulation. This has shown just how popular legalization can be.
State's dependence on Cannabis to a greater degree
The bottom line: Arizona cannabis use is growing exponentially, especially in adult-use market. Cannabis could become a powerful part of the state's economy over the next few years. It brings in a lot off tax revenue: Over $220 million in the YTD period to Oct 2022 so far.
Given that the budget for Fiscal 2023 is $15.8 billion, this means that cannabis provides just 1.39% of the total. But that number is growing quickly. Governor Ducey ordered the state to have the lowest flat tax in the United States, at 2.5%, starting in Jan. 2023, other than the 9 states that have zero taxes. This is a direct result of the state's $4 billion budget surplus in the most recent fiscal year. Growing cannabis sales will help the state to keep up with that budget surplus.
Canna Brand Solutions is an innovative custom packaging supplier and an official CCELL Distributor. We are a wholesale cartridge, battery, and packaging supplier, and more. Our passion to build lasting relationships with our partners motivates us to exceed your expectations, helping you grow your brand in this ever-evolving global industry. With our deep experience in manufacturing and the cannabis industry, we offer adaptive custom packaging solutions, in-house design, and industry expertise to Cultivators, Extractors, Operators & Retailers.