Recreational cannabis sales took off in New Mexico in April 2022. The Land of Enchantment has quickly becoming one of the most exciting emerging markets in the nation. The state's cannabis industry had a successful start and growing by the month.
In this article, we will go through the history of New Mexico cannabis and also assess the state's industry growth, outlook, and potential.
The History of Cannabis in New Mexico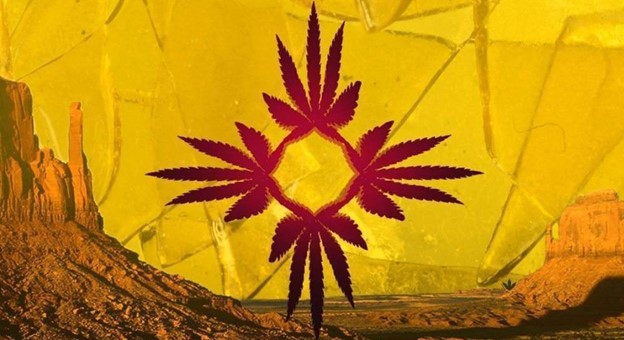 In March 2007, the New Mexico legislature passed SB 523 AKA Lunn and Erin Compassionate Use Act. This legislation aimed to allow use of medical cannabis by patients and their caregivers. Indeed, it has effectively removed all state-level criminal penalties for the use and possession related to patients and caregivers. New Mexico Department of Health (NMDOH) is tasked to oversee rules and regulations, in which, created the Medical Cannabis Program (MCO). NMDOH consequently issued the rules on SB 523 in 2008 and then revised the rules in 2010 before issuing the first medical dispensary license. New Mexico is the 12th state to legalize medical use and the 4th through an act of state legislature.
On the other hand, it took 12 years since medical legalization for adult-use legalization to finally take place. On March 2019, House Bill 356 was approved by the House of Representatives to legalize the recreational use of cannabis and establish a system for distribution through state-run dispensaries. Governor Lujan Grisham then signed Senate Bill 323 to decriminalize up to half an ounce and drug paraphernalia a month after in April.
However, adult-use legalization did not materialize in New Mexico until Gov. Grisham signed House Bill 2, the Cannabis Regulation Act on April 2021. The application process began in August 2021 for business users to submit their applications through a streamlined online system. In compliance with the deadline imposed by the Cannabis Regulation Act, the first licensed sales of recreational cannabis began on April 1, 2022.
New Mexico recreational market: A great start and still going on strong
The Land of Enchantment began its adult-use cannabis sales in April 2022. In the first three days, consumers had spent $3.52 million on adult-use recreational cannabis. According to the state's Cannabis Control Division (CCD), New Mexico processed 57,890 adult-use recreational cannabis transactions over the three-day period.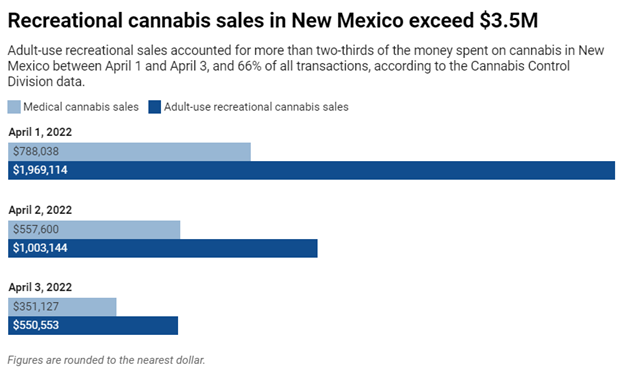 Chart: Chris Keller/Albuquerque Business First | Source: New Mexico Cannabis Control Division
New Mexico has a relatively small population of 2.1 million. Despite that, the state's recreational market is expected to hit $125 million in 2022 annual sales. According to projections from 2022 MJBiz Factbook, 2025 annual sales will grow as much as $400 million.
In October 2022., New Mexico broke the record for the fourth time on its monthly sales of adult-use cannabis. Monthly sales of cannabis in October totaled $39.8 million, with recreational marijuana sales topping $25 million in New Mexico for the first time, according to CCD's data. Based on the latest figures from the CCD, New Mexico has 507 licensed retailers. It has reported $161 million in total sales since April's adult-use sales began.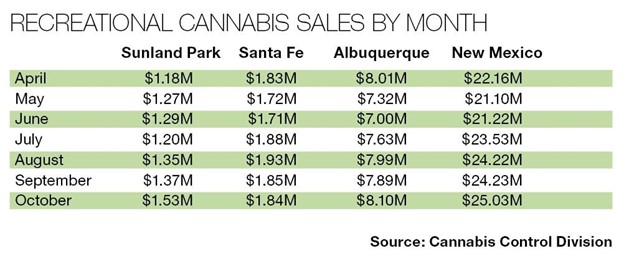 Recreational sales remain strong in New Mexico's border towns which made up about a third of overall adult-use sales. These border towns – South and east where New Mexico borders Texas, have a very limited medical market.
Medical sales decline – A transitionary effect
New Mexico has established a robust and steadily growing medical program. The medical market produced $129 million in revenue in 2019 and $203 million in 2020. Even for the year 2021, on average, the industry was making $20 million a month.
Despite a strong adult-use sales, medical sales in New Mexico continue to decline. With adult-use cannabis available, medical sales have declined to $14.7 million in October after a high of $17.5 million in May. This drop in medical sales is likely be attributed to patients who are now purchasing from recreational dispensaries instead of renewing their medical cards.
According to data from the New Mexico Department of Health, enrollment in the medical cannabis program dropped from 133,113 patients (end of March) to 126,387 patients (end of August).
Source: New Mexico Department of Health – Medical Cannabis Patient Statistics Report (2022-10-31)
As shown from the chart, New Mexico's medical program enrollment decline more rapidly. It was deemed faster than Colorado and Arizona have observed. Some attributed to the fact that the state does not provide sufficient protections and incentives for medical marijuana users to continue signing up. Moreover, many dispensaries have decided to switch over the focus on recreational sales. This transitionary effect from medical to recreational businesses is most likely the primary reason.
What's next: Expanded enforcement & maybe cheaper prices
New Mexico's retail sales is eight months in and the industry is gaining a stable footing. The Cannabis Control Division (CCD) is looking to expand enforcement. Other than keeping consumers safe with compliance and inspection operations, the work is also aimed at combatting the illicit market.
Some of the early-to-license producers already had grows up and running. The Land of Enchantment is seeing an increase of supply on the market. The price will drop with more product variety comes into the market. Data from priceofweed.com shows that the per-ounce price of weed has dropped in Albuquerque from July to August. Despite the data from the website has its inconsistencies, it roughly shows a message from the industry: Prices are dropping.
About Canna Brand Solutions
Canna Brand Solutions is an innovative custom packaging supplier and an official CCELL Distributor. We are a wholesale cartridge, battery, and packaging supplier, and more. Our passion to build lasting relationships with our partners motivates us to exceed your expectations, helping you grow your brand in this ever-evolving global industry. With our deep experience in manufacturing and the cannabis industry, we offer adaptive custom packaging solutions, in-house design, and industry expertise to Cultivators, Extractors, Operators & Retailers.